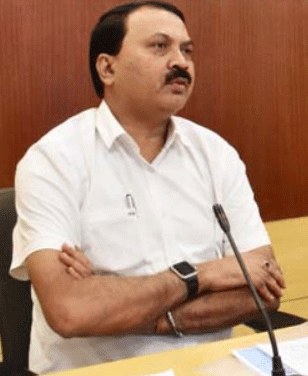 Bhubaneswar: Satyabrata Sahu, ACS Revenue & Disaster Management and Special Relief Commissioner (SRC) has asked District Administrations to gear up to tackle the low pressure induced rainfall.
As a low pressure is formed in the Bay of Bengal, the India Meteorological Department (IMD) Friday forecast heavy rainfall across Odisha from Saturday which may cause inundation of low-laying areas, flash flood and landslide in places, SRC alerted the District Collectors.
"The heavy to very heavy rainfall may be reported immediately to the SRC office and submit report on damage if occurred due to thunderstorm, whirlwind, hailstorm, lightening immediately for the information of the government," the SRC said in the letter to District Collectors.
The low pressure area is now lies over Northeast and adjoining Eastcentral Bay of Bengal and is likely to become well marked and move northwestwards towards North Odisha and adjoining West Bengal coasts during next 48 hours, the national weather agency said.
"Under the influence of yesterday's cyclonic circulation over Myanmar & adjoining Eastcentral Bay of Bengal, a low-pressure area formed today morning, over Northeast & adjoining Eastcentral Bay of Bengal with the associated cyclonic circulation extending up to 7.6 km above mean sea level and now persists over the same region. It is likely to become well-marked low-pressure area and move northwestwards towards north Odisha & adjoining West Bengal coasts during next 48 hours," the IMD said in its mid-day bulletin.
It forecast heavy rainfall (7 to 11cm) in places in Keonjhar, Mayurbhanj, Balasore, and Bhadrak districts till 8.30 am on Saturday.
Yellow warning of thunderstorm and lighting has also been issued for Balasore, Bhadrak, Jajpur, Kendrapara, Jagatsinghpur, Cuttack, Khurda, Puri, Nayagarh, Ganjam, Gajapati, Mayurbhanj, Keonjhar, Angul, Dhenkanal, Sundargarh, Kandhamal, Malkangiri, Koraput and Rayagada.
Stating that the intensity of rain is expected to increase during the next three days, The IMD issued both orange warning and yellow warning for the state from 8.30 AM of Saturday to 8.30 AM of Sunday.
Orange Warning (be updated) of heavy to very heavy rainfall (7 to 20cm), is issued for the districts of Keonjhar, Mayurbhanj, Jajpur, Bhadrak and Balasore on Saturday.
Similarly, Yellow Warning (be prepared) of heavy rainfall (7 to 11cm) is also issued for the districts of Sundergarh, Deogarh, Dhenkanal, Sambalpur, Angul, Cuttack, Kendrapada, Jagatsinghpur and Khurda.
Thunderstorm with lightning may occur at one or two places in North Odisha, South coastal Odisha, Sonepur, Boudh, Kandhamal, Balangir and Kalahandi, the bulletin said.
The IMD also issued forecast for October 1, 2 and 3.
Apart from warning water logging in low-lying areas and underpass roads, the IMD predicted inundation of agricultural fields, occasional reduction of visibility causing traffic congestion in urban areas and damage to kutch roads and houses during the intense spells of rain. It also said possibility of landslide in hilly areas of the state during the four-day of intense rainfall from September 30 to October 3.
Farmers have been advised to postpone fertiliser/chemicals application in agricultural field and keep livestock at safe places.
Meanwhile, the Regional Meteorological Centre, Bhubaneswar said the state during last 24 hours recorded an average of 3.3 mm rainfall with maximum of 59 mm downpour at Lamtaput in Koraput district followed by 55 mmrainfall at Gumma in Gajapati district and 50 mm rainfall at Korukunda in Malkangiri district.