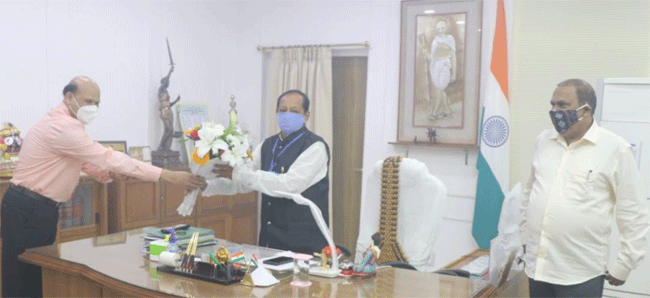 Vice Chancellor Utkal University of Culture, Byomakesh Tripathy called on Speaker Odisha Legislative Assembly, Surjya Narayan Patro on Monday. 
Prof.Tripathy  briefed Mr.Patro in details about the UUC, which came into existence by virtue of an ordinance promulgated on the 9 June, 1999.
During briefing Secretary Odisha Legislative Assembly, Dasarathi Satapathy was present. The  VC said the University seeks to spread the benefits of culture and education . 
He said UUC mission is to evolve policies and programs which would enable to make the University a distinct one by fostering our composite culture through qualitative expansion of academic studies and researches. Such activities would necessarily focus on various relevant and frontier areas of culture and development. 
The University was recognized by the University Grants Commission (UGC) and it has also been accredited by the Association of India Universities (AIU). Speaker, Mr.Patro advised Prof.Tripathy to continue their initiative and scale up activities of the University.