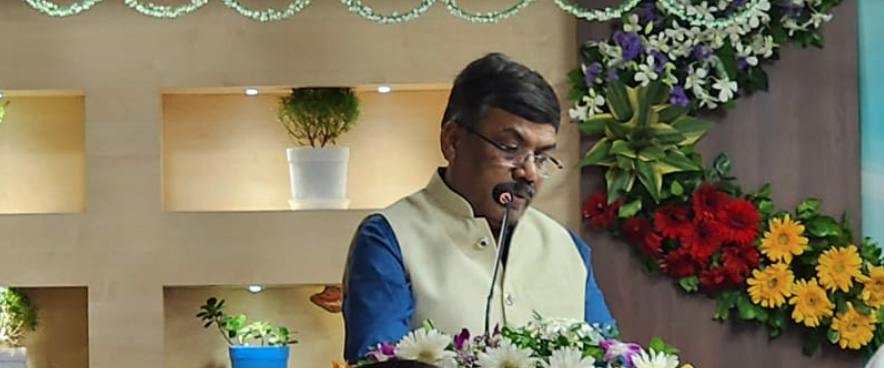 Bhubaneswar: The State Pollution Control Board is vigilant on plastic product manufacturing units for their compliance with the statutory provisions of the Plastic Waste Management Rules, 2021 and amended thereof and effectively implementing ban of SUP items from 1July, 2022 in the entire state.
Member Secretary State Pollution Control Board, Dr.K Murugesan said that the Board has requested to all industrial houses, institutions, government buildings commercial establishment to make the campus plastic free.
Dr.Murugesan, who is also Director Environment of the Government of Odisha is pursuing the sensitive issue with all sincerity.
As Member Secretary SPCB he is regularly monitoring the matter. In the meantime, the Board has also requested Industrial Township to install cloth bag vending machines.
The Board has authorized 11 collections cum dismantling centers under E-waste Management Rules.
Fly Ash Resource Centre (FARC) has been set up in the Board to facilitate and enhance utilization of fly in different sectors. FARC effectively coordinates with fly ash generator and users. It also creates awareness by organizing workshop.
SPCB during 2022-23 has been able to achieve overall 89.43 Percent of fly ash utilization.
As a part of the Board's regulatory functions, the Board is taking legal actions against the defaulting industries those who have violated the directions of the Board and continue to pollute the environment.
An innovative Low Emission Zone for Ekamra Kshetra, Bhubaneswar is being implemented in Bhubaneswar.
Board has conducted an Ideation hackathon to "save water to make the future better" in collaboration with IIT, Bhubaneswar involving Participation from all technical, nontechnical, colleges and universities.
The Angul City has been awarded Third Prize on below 3 Lakh population in city ranking under NCAP.
In order to encourage the industries/ mines to adopt clean technology and take adequate pollution control measures, Board has instituted Pollution Control Excellence Award and Pollution Control Appreciation Award since 1998.
SPCB also deputes its scientists and engineers to various training programs, workshops, seminars conducted inside & outside the country by reputed organizations/ institutions at the national and international level for wider exposure and upgradation of their skill sets. 
Since its inception, the Board has come a long way. SPCB is rated as one of the best performing Pollution Control Boards in the country. This has been possible because of the tireless effort of its staff and supports, guidance of the authorities, admits Dr.Murugesan.
However, in view of the large-scale industrialization and rapid growth in the mining sector, the Board is going to face bigger challenges in future for which the staff are to be fully prepared and adequately equipped, said sources in SPCB.
.