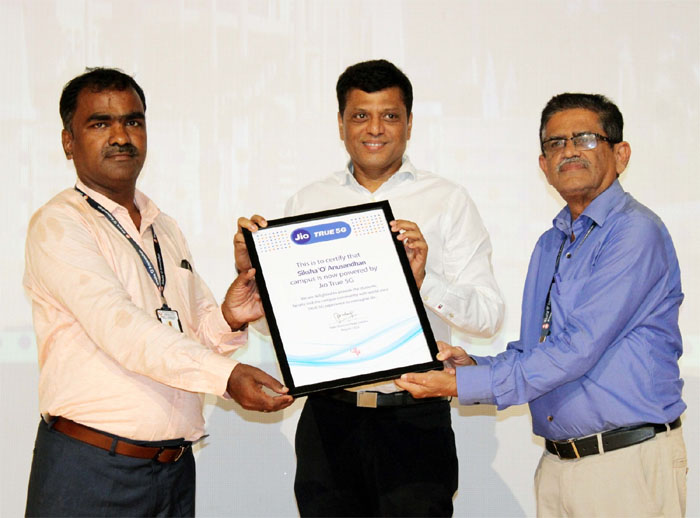 Bhubaneswar: As part of the fast roll out of the True 5G services across Odisha, the precincts of Siksha 'O' Anusandhan Deemed to be University (SOA) was on Wednesday declared as the first 5G campus in the state.
This is part of Reliance Jio's transformative journey in major educational institutions for harnessing the immense potential of True 5G in the field of education, Pradip Rout, Head of Jio Odisha, said.
Keeping in view the need for high data requirement and usage by students, Reliance Jio had put special focus on ensuring seamless 5G connectivity and best experience for the users, Mr. Rout said adding the company had deployed multiple 5G network sites at major educational centres.
SOA Vice-Chancellor Prof. Pradipta Kumar Nanda, who attended the program said the initiative would greatly benefit the students of the university and while pursuing courses in healthcare and agriculture.
In an interactive session with students at SOA, the Jio Odisha team explained about the multi-faceted benefits and potential of True 5G with emphasis on the immense scope of digital learning, collaboration and knowledge sharing. The team also showcased the various uses of 5G through live demonstration of applications and video presentations outlining the infinite growth opportunities in areas of e-governance, education, automation, Artificial Intelligence, gaming, healthcare, agriculture, IT and SMEs.
Prof. Nanda recalled that a MoU had been signed between SOA and Jio Platforms Ltd (JPL) for establishment of a 5G Lab in the university in January last during the launching of the 5G services in Odisha.
The program was also attended by Prof. Santosh Kumar Rout, Dean of Institute of Agricultural Sciences, Advisor Prof. Bijay Kumar Sahu and Prof. Jyoti Ranjan Das, Dean (Students' Welfare).