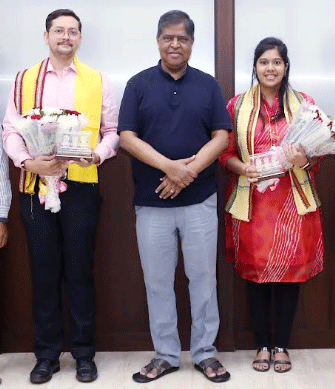 Bhubaneswar: Adyasha Mishra, a student of SOA National Institute of Law (SNIL), SOA's faculty of legal studies here, who topped the Odisha Judicial Service (OJS) examination recently, was on Wednesday felicitated by the university's Founder President Prof. (Dr.) Manojranjan Nayak.
 In fact, four students of SNIL had cleared the OJS examination this year with Sitesh Mohanty occupying the ninth place. Two others, Samikshya Sa and Ipsita Bhoi had occupied the 15th and 17th place respectively in the examination.
Prof. (Dr.) Nayak felicitated Ms. Mishra and Mr. Mohanty at a special program held in the university while wishing them the best in their career. The other two students could not be present as they were away.
Speaking on the occasion, Prof. (Dr.) Nayak said the students had excelled in the examination because of the continuous effort and encouragement provided by SNIL Dean Prof. S A K Azad and other faculty members.
 Expressing their happiness after the felicitation program, Ms. Mishra and Mr. Mohanty said they had received great support from the Dean of the institute during their preparation for the examination.
The program was attended, among others, by Prof. Azad, Prof. Prabir Kumar Patnaik, Senior Professor, Prof. Madhusudan Das, Senior Professor, Dr. Chinmay Kumar Mohapatra, Associate Professor and Prof. Jyoti Ranjan Das, Dean (Students' Welfare).