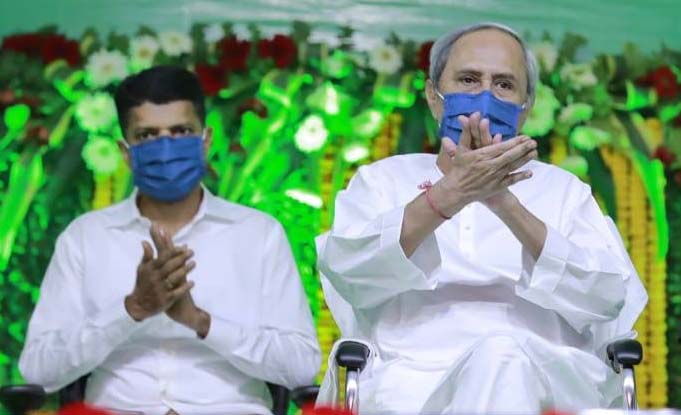 Baripada: Chief Minister Naveen Patnaik today inaugurated the distribution of smart health cards under the Biju Health Welfare Scheme for Mayurbhanj district. As many as 2.14 million people in the district will benefit from the scheme. The program has so far been launched in nine districts of the state.
Addressing the gathering, the Chief Minister said that September 2021 marked a new era in the history of healthcare in Odisha. From September 1, the Biju Swasthya Kalyan Yojana in Odisha has started providing health services through smart health cards. He described the card as a "real friend" in times of crisis. The Chief Minister hoped that this would bring a big change in the lives of the people.V K Pandian, Secretary to CM graced the occasion.
"Odisha is the only state where the state government bears all the expenses from testing to treatment for all patients during the Covid-19 pandemic," he said, adding that every life is precious.
The Chief Minister said that three and a half crore people from 9600,000 households in the state would benefit from the Smart Health Card.
"It pained me when I came to know that people were to shell property or bring an end to the education of their children without finding any other way to treat a family member," he said while reiterating that now this card will help our poor people to get rid of many health problems, especially financial ones. Now people can get better treatment at 200 major hospitals in the country by holding a piece of card without any hassle.
Expressing that development work is being accelerated in Mayurbhanj district, the Chief Minister said that 15,000 hectares of land in 94 villages were receiving water from the canal in the Subarnarekha Irrigation Project last July. The Chief Minister also said that a mega piped water project worth Rs 3,200 crore is being implemented to provide piped water to all families in Mayurbhanj. He further added that more than 500 projects worth of Rs 2,300 crore investment are being inaugurated and laid today.
The Chief Minister paid homage to Mayurbhanj's great men and celebrities such as Pandit Raghunath Murmu, Guru Rohidas Singh Nag and Guru Lako Badra, who played a key role in strengthening the language and nation building. He recalled the invaluable contributions of Maharaja Purnachandra Bhanjdeo and Sri Ramachandra Bhanjdeo. He praised Mayurbhanj's art and literature and highlighted the popularity of Jhumar songs and Chhau dance.
Health Minister Naba Kishor Das, Urban Development & Panchayati Raj Minister Pratap Jena, Revenue Minister Sudam Marndi were among others present during the occasion and lauded the Chief Minister's commitment to improving healthcare in the state.