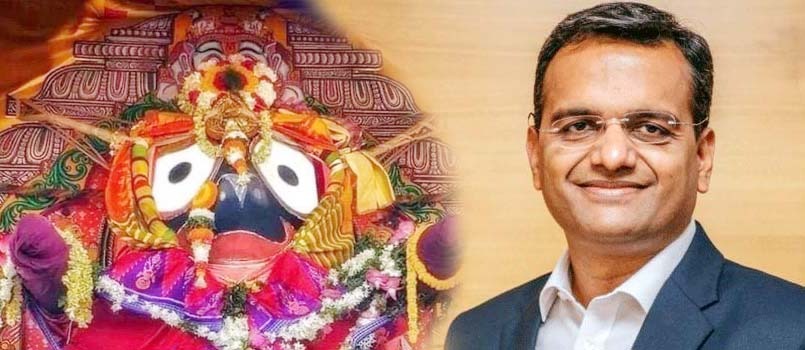 Puri: Shree Jagannath Temple Administration (SJTA) on Thursday rejected the allegation of its attempt to sell 35,000 acres of land belonging to Lord Jagannath.
SJTA Chief Administrator, Krishan Kumar, in a statement, termed the report on sale of Jagannath land on massive scale, as 'false' and 'motivated'.
"That 35,000 acres of land of Shree Jagannath Mahaprabhu will be sold, is totally false and motivated," the SJTA stated in its clarification.
Dr.Kumar clarified that Shree Jagannath lands, which are occupied or under possession of various persons since long, are being settled by the Temple Committee as per the 'Unified Policy', framed for the purpose in the year 2003 with an objective of protection of land of Lord Jagannath.
The policy also aims to bring transparency and uniformity in the process to be followed for settlement of land to the eligible persons, he said.
He pointed out that a total of 291 acres of land was settled between 2001 and 2010 while it had been 96 acres of land between 2011 and 2012.
"These have been settled for the benefit of the public mostly in the form of schools, medical college, roads and others. Decision regarding allotment of land for such public benefit infrastructure projects to Government and others is taken by the ShreeJagannath Temple Committee," a statement issued by SJTA said.
The SJTA also urged people and devotees of Lord Jagannath not to be misguided by 'malicious' and 'false' reporting.
However, opposition BJP on Thursday strongly condemned the Odisha Government's alleged bid to sell away certain landed property of Lord Jagannath across the state and elsewhere in the country, a charge vehemently denied by Shree Jagannath Temple Administration (SJTA).
The issue was raised by Leader of Opposition PK Naik who came down heavily on the state government based on a written reply of State Law Minister Pratap Jena in the Assembly on March 16 while replying to a question of BJP member Mohan Majhi.
The Minister in his reply has stated that around 60,426 acres of land in the name of Lord Jagannath, has been identified in 24 districts across the State. Of the total land, 34,876.983 acres land has been reclaimed and recorded in the name of the temple administration, he said.
"Basing on the recommendation of a (judicial) commission, the government has been taking measures to sell certain land under unified policy," the Minister said.
Meanwhile, the temple has already earned over Rs 11.20 crore by selling about 315 acres of land and the funds are deposited in the temple's corpus fund, he said.
This apart, over 395 acres of land of Lord Jagannath has been identified in six different states like West Bengal, Maharashtra, Madhya Pradesh, Andhra Pradesh, Chhattisgarh and Bihar. The Collectors of the districts in other states are also communicated to facilitate sell of land there, the minister said.
"I strongly condemn the Odisha Government decision to sell 34,806 acres of lands owned by Mahaprabhu Jagannath Temple. This is highly objectionable, unethical, against the spirit of crores of Hindus, Temple lands, property belonging to God's not Government," Naik said in his twitter post.
He further said: "Sale of land of any temple, particularly received by the government in the form of donation, is illegal. The Government of Odisha cannot work like a property dealer, sell the lands for revenue."