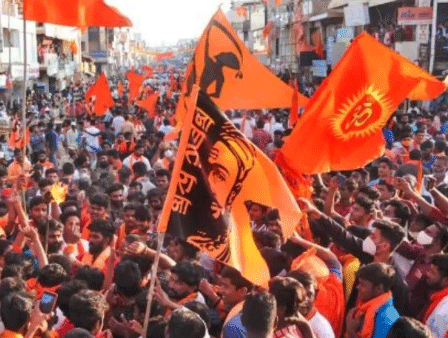 Bhubaneswar: In protest of violence erupted during Hanuman Jayanti processions in Sambalpur last week, Vishwa Hindu Parishad on Wednesday called a 12-hour Shutdown in 14 districts.
The Shutdown began at 6 a.m. and will continue till 6 p.m. on Wednesday. BJP, Bajrang Dal and some other political outfits supported the call by the VHP.
The dawn-to-dusk shutdown has affected normalcy in Sambalpur, Deogarh, Jharsuguda, Sundargarh, Bolangir, Sonepur, Bargarh, Boudh, Kalahandi, Nuapada, Koraput, Nabarangpur, Malkangiri, and Rayagada districts.
Shops and business establishments were shut down in these districts. The vehicular movements also affected in the 14 districts as the VHP and Bajrang Dal are picketing in different roads and squares of various towns.
However, emergency services like ambulances, fire service vehicles, and others were exempted from the purview of the shutdown.
Police personnel were deployed at important junctions in the affected districts to prevent any untoward incident. Till afternoon, no untoward incident was reported from anywhere in the 14 districts.
ASP, Sambalpur, Tapan Kumar Mohanty said there has been no report of any untoward incident in the district so far.
Agitators demanded stringent action against "those responsible" for the violence in Sambalpur.
"We will observe a state-wide strike if no action is taken against those guilty within 48 hours," Subhransu Sekhar Satpathy, VHP Secretary, Odisha, said.
"During the Hanuman Jayanti procession, a few people of a particular religion attacked our brothers and pelted stones at them. However, no strong action is not being taken in this regard and he government as well as the administration are going easy on the rioters. So, we have called for the shutdown," said a protesting VHP activist.
Meanwhile, the Sambalpur district administration has relaxed curfew from 7 a.m. to 6 p.m. as the situation has improved in the town. The state government extended the suspension of internet services by another day till 10 a.m. on Thursday across Sambalpur district. However, internet service has been restored for banks and commercial establishments in some areas.
Sambalpur District Magistrate, Ananya Das along with Superintendent of Police B. Gangadhar, held several peace committee meetings with representatives of localities and said normalcy is returning.