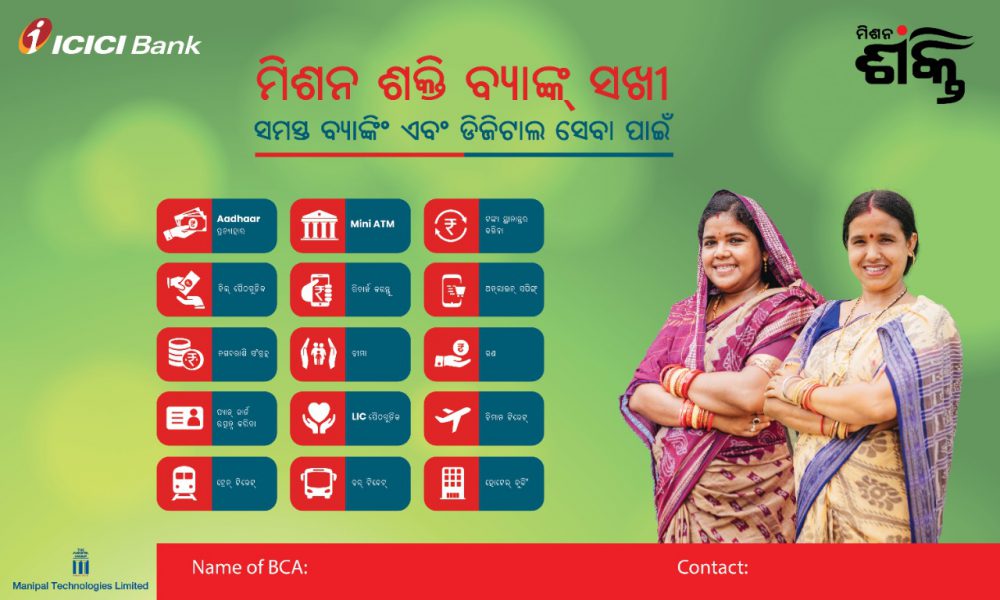 Bhubaneswar: Women's empowerment is one of the top priorities of the Government of Odisha to strengthen local economies, promote women-led entrepreneurship, ensure gender equity and create unique identity of women.
The State has engaged 1252 Mission Shakti SHG members as Business Correspondent Agents (BCAs), who have facilitated the transaction of Rs 230 crore in un/underbanked Gram Panchayats (GPs) in rural areas.
The Mission Shakti Department in partnership with State Bank of India, Yes Bank, ICICI Bank, Utkal Gramya Bank & Odisha Gramya Bank, have engaged the 1252 Mission Shakti SHG members in the unbanked GPs across the State.
So far, the BCAs have undertaken transactions amounting to Rs 230 crore. The average monthly income of a BCA ranges from Rs 3,000 to Rs 15,000, official sources said.
This initiative aims at furthering the financial inclusion efforts in Odisha using ICT-based Business Correspondence Model through community institutions such as members of the SHGs and their federations.
Financial support for device procurement for these BCAs have been received from State Government and NABARD. To ensure the financial sustainability of BCAs, each BCA has been provided with an incentive of Rs. 2000 per month during the first six months of engagement since inception.
Aiming at increasing the outreach of Banking Services such as savings, deposit, withdrawal, remittances, insurance etc. and improving the quality & effectiveness of financial services in rural areas, this transformative livelihood model is a key milestone in the promotion of SHG women managed financial inclusion initiatives.
Chandamani Chand acting as a BCA in Rajendrapur GP under Bhandaripokhari block of Bhadrak district facilitates financial transactions of beneficiaries relating to different Government schemes such as Kalia Yojana, Mamata, labour card etc. with a cumulative transaction of more than Rs 67 lakh so far.
Ganga Nayak, an old age pension beneficiary of Kathakhunta village of Narasinghpur block, Cuttack narrates 'I used to avail another person's services to undertake banking transactions in the nearest bank branch several kilometres away thereby spending a significant amount from the pension just for withdrawal of money. I was never aware of such customer-friendly services offered by Business Correspondent Agents (BCAs) to citizens in remote areas. I wholeheartedly thank the State Government for making such arrangements to provide banking services to senior citizens with restricted mobility at the doorstep.'