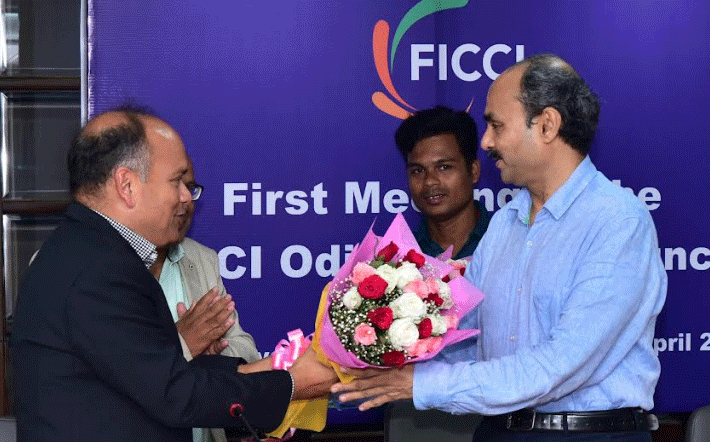 Bhubaneswar: Principal Secretary, Industries Hemant Sharma on Sunday urged to bring in the enterprising spirit among youth in the State as Odisha offers abundant opportunities in every sector.
FICCI and other industry associations need to play a very crucial role in engaging members about various available opportunities, he said addressing the first meeting of FICCI Odisha State Council here recently.
The industry bodies also play a leading role in bridging the gap between the Industry and Government, Principal Secretary mentioned.
Mr.Sharma said the State government would organize Make in Odisha with the active involvement of FICCI as the national industry partner.
The FICCI Odisha State Council would be focusing on mining, energy, tourism, education, skill development and MSMEs sector in the state.
The interactive session was organized for the State Council Members with the senior government officials of the Industries department.
MD IPICOL Bhupendara Singh Poonia highlighted the business opportunities for both the large and MSMEs enterprises
Chairman, FICCI Odisha State Council & COO JSW Steel Odisha Ranjan Nayak applauded the Odisha Budget announced recently.
He said, Government of Odisha made a significant allocation to the mining sector.
He highlighted that the business models should be sustainable with adopting more green initiatives. He also mentioned resource nationalism, digitalization and geo-political factors that influence business in recent times.
Former Chairperson Monica Nayyar Patnaik highlighted the activities done by FICCI Odisha State Council across the sectors during the difficult times.
She urged the industries to work in synergy to take Odisha to new heights.
During the open house discussion Industry members discussed various issues and challenges during the pandemic and put forth their views to strengthen the efforts of the government.
Senior industry members Co-Chair, FICCI National Tourism Council and CMD Swosti Group JK Mohanty, Managing Director, SNM Group Prabodh Mohanty, Chairman, Taskforces on Exports, FICCI Odisha State Council and Commercial Director, B1 Business House Pvt.Ltd Rajen Padhi and Shashi Bhushan Upadhayay, Chief Resident Executive, Jindal Stainless Steel were among those who participated in the interactive session.
The interactive session was represented by 30 Industry members.
Sanjeev Kumar Mohanty, Head, FICCI Odisha State Council moderated the session.