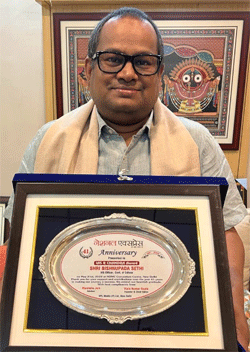 New Delhi: Ace Mandarin Bishnupada Sethi has been honored with R Chandra Karmayogi National Award for his immense contribution for the Public Service.
1995 Batch IAS Mr.Sethi, a pro-people mandarin has all along served the State with Public Interest and cause.
Mr.Sethi is Principal Secretary School & Mass Education, Commerce & Transport, Information & Public Relations and Chairman Odisha Hydro Power Development Corporation.
The National Express, vernacular leading daily, which celebrated its 41st Anniversary and presented Mr.Sethi with R.Chandra Karmyogi Rashtriya Samman in recognition of his public service at NDMC convention center New Delhi recently, said Vipin Kumar Gupta, Chief Editor, National Express Publication Group.
A visionary Mandarin, who could visualize the immense potential of the Fishery Sector in Odisha, way back in 2011, which World Fish was roped in to boost fishery development in the State.
And now results are percolating now and with Chief Secretary SC Mahapatra recently visiting Hirakud Dam and appreciated the Cage Fish Culture, which Mr.Sethi initiated long ago.
Odisha was ahead on Doubling Farmers' Income, which was later initiated by Prime Minister Narendra Modi. Odisha Government had been successful in doubling Farmer's Income in Fishery and ARD Sector, thanks to initiative of Mr.Sethi.
Mr.Sethi's role as Special Relief Commissioner and Managing Director of Odisha State Disaster Management Authority was praise worthy.
Mr.Sethi as SRC steered the Program of 'Zero Causality' approach taken up by Chief Minister Naveen Patnaik and had been successful handling situation during Very Severe Cyclone FANI, which wreaked havoc in the State.
In Power Sector, as CMD OHPC, he has been instrumental in turning around the Hydro Power Major, thanks to his innovative initiaitves.
As District Collector of Sonepur, Nuapada and Rayagada, Mr.Sethi has scripted success in serving the people with all sincerity and honesty.
National Express Group of Publications heaped all praise on the senior mandarin, who has reputation of connecting to the people.