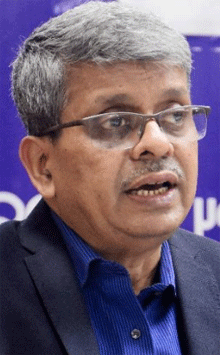 Bhubaneswar: Giving a strong message to all public servants who taking Model Code of Conduct lightly, State Election Commission (SEC) headed by Aditya Prasad Padhi has recommended suspension of two senior officials for violation of poll norms at Maa Tarini College in Mahakalapada in Kendrapara district.
The SEC has recommended the State Government for suspension of college Principal Bikash Das and Sub-Divisional Police Officer (SDPO) of Salipur, Prasanta Majhi for organizing a political meeting in the premises of college recently.
The Commission has also directed police to lodge an FIR against Mr.Das for allowing the political meeting in the college.
Yesterday, a purported video of violation of the poll norms has gone viral in social media creating a spark in the State.
In that video, it was seen that a political meeting was organized on the premises of Tarini Mahavidyalaya at Mahakalpada, where hundreds of people participated. It has been alleged that the principal of the college and sub-divisional police officer (SDPO) of Salipur also attended the meeting.
Notably, the Model Code of Conduct is in force in the entire State since January 11 for the upcoming Panchayat elections. The norms will remain in force till February 28.
The Panchayat polls will be held in five phases on February 16, 18, 20, 22, and 24. The counting of votes and declaration of results will be done at all the block levels on February 26, 27, and 28.