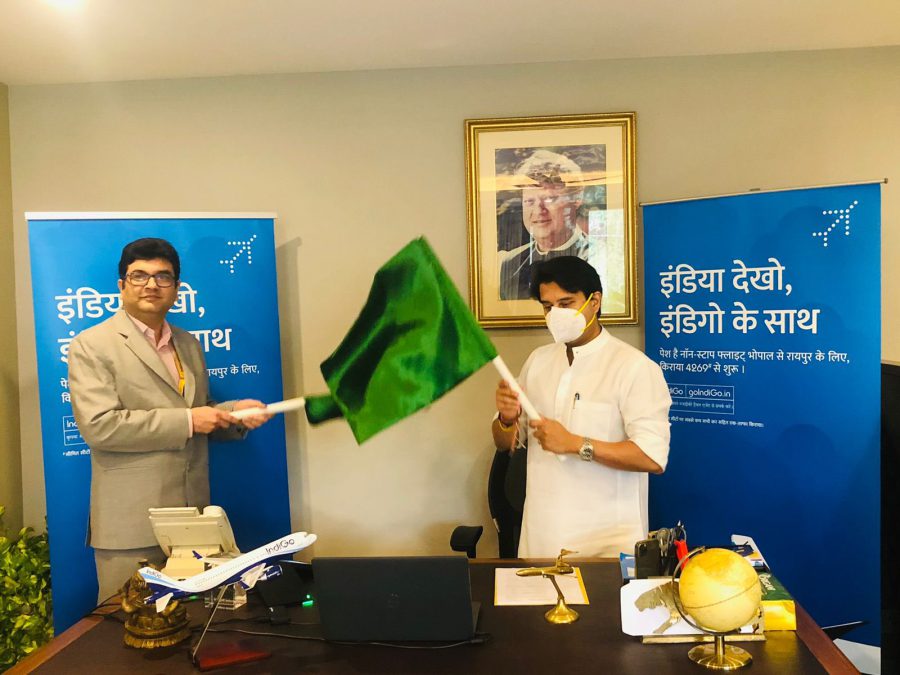 New Delhi: In order to connect the people from East with West of the Country, Union Minister for Civil Aviation Jyotiraditya M Scindia on Tuesday flagged off the direct flight between Odisha's Bhubaneswar and Rajasthan's Jaipur.
Union Ministers Ashwini Vaishnaw, Dharmendra Pradhan and Odisha Minister Ashok Chandra Panda were present on the occasion.
IndiGo airline will operate three flights in a week – Tuesday, Thursday and Saturday – on his route.
After flagging off the direct flight on virtual mode, Mr.Scindia said: "I was honoured to inaugurate the direct flight between the capital cities of Odisha and Rajasthan so that people of India in western and eastern parts will get connectivity. This will boost tourism potential and ensure exchange of culture."
Mr.Scindia said that efforts are on to enhance the passenger handling capacity of Biju Patnaik International Airport in Bhubaneswar to 35 lakh by making an investment of Rs 200 crore. Now the domestic terminal has the capacity to handle 25 lakh passengers and the international terminal with handling capacity of 300 passengers per hour, he said.
Minister Railways Ashiwin Vaishnaw, who hails from Rajasthan said that the tourists visiting Rajasthan will get an opportunity to go Odisha's state capital which is itself a temple city. The direct flight will boost the tourism of both the states.
Union Education Minister, Dharmendra Pradhan on 17 September had written to Scindia seeking his intervention to commence flight services between the two cities. "I thank Scindia Ji and all staff of the ministry for making it a reality. I also thank the authorities of Indigo," he said.
Bhubaneswar MP Aparajita Sarangi said she has urged the Union Civil Aviation Minister to ensure a direct flight from Bhubaneswar to Jammu, Siridi and Guwahati.
To strengthen air connectivity and boost tourism, the Odisha Government has extended the initial incentive to the airline for commencement of the flight operation. It will provide Rs 75,000 per round trip to the airliner.
IndiGo's Chief Strategy and Revenue Officer, Sanjay Kumar, said: "We are pleased to initiate direct connections between the temple city, Bhubaneswar and the pink city, Jaipur. These new domestic flights will strengthen inter and intra-regional connectivity and promote trade, commerce, as well as tourism in the eastern state."
He said the introduction of these direct connections will not only bolster the airline's domestic network, but also cut down the travel time between the two states by more than 50%. We are committed to providing an affordable, on-time, safe and hassle-free travel experience, onboard our lean clean flying machine across a wide network, he said.
The direct flight from Bhubaneswar to Jaipur (thrice every week on Tuesday, Thursday and Saturday) will departure from Biju Patnaik International Airport, Bhubaneswar- 9:05 PM and arrive at Jaipur International Airport- 12:10 AM.
Similarly, the flight between Jaipur to Bhubaneswar (thrice every week on Tuesday, Thursday and Saturday), will departure from Jaipur International Airport- 6:30 PM and reach at Biju Patnaik International Airport, Bhubaneswar here at 8:35 PM.
Efforts are on to operate daily direct flights between Bhubaneswar and Goa from December, an official said.
Union Government has already started 395 flights during NDA Regime and more air services are in offing.
There is also demand for connecting Odisha with Uttarkhand as recently, former Tourism Minister A U Singh Deo has requested Mr.Scindia in this regard.
And Union Minister Mr.Scindia has brought to the attention of Airlines and senior officials of Ministry of Civil Aviation.