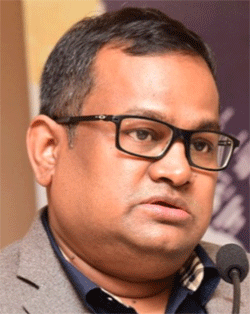 Bhubaneswar: Principal Secretary Commerce & Transport, Bishnupada Sethi on Tuesday asked the Transport Commissioner to conduct a special enforcement drive for detection of violation of School Bus Policy.
For safe transportation of students to School/ College and back to home, the Government had prepared a policy on transportation of School Children in 2016.
"It is the duty of this Department to ensure implementation of the policy. Students are the most vulnerable road users. Therefore, safety of the students on journey to school is one of the top priorities of the Department," Mr.Sethi said in his letter to the Transport Commissioner.
During a special drive conducted by the RTOs throughout the State from 20-26th April, 2022, more than 1200 cases of the policy violations were detected.
To encourage vehicle owners to comply with the Policy guidelines, there is a need for conducting special drives in regular intervals, so that the violators will not dare to violate the rules, he pointed out.
The Department of Commerce & Transport has received several complaints that many vehicles are not complying with the Rules/Act.
Therefore, the Principal Secretary asked to take steps for conduct of a special drive for a week against traffic violations next week. He also sought a report after the special drive for kind perusal of Chief Secretary SC Mahapatra.
It is the school management's responsibility to ensure that Supreme Court guidelines for plying of school buses are complied with. 'Policy on Transportation of School Children' framed in 2016 should be strictly enforced.
The school management should make sure that their buses are in order. They should ensure drivers are well trained and they have a valid driving license.
It is their responsibility to ensure that drivers are physically fit and have a proper driving license to ferry school children.
Similarly, schools which are engaging buses on contractual/ hire basis shall abide by the stipulations as applicable to the buses owned by school. School authorities should conduct safety audits of these vehicles as well.
As per the guidelines, all the vehicles engaged in ferrying school children must have CCTVs, GPS trackers, first-aid box, proper grills, emergency exit, and fire extinguisher. They should maintain a list of students and their parents' names and numbers. There must be an attendant from the school on the bus.
Under no condition, overloading of vehicles is permissible. The number of children in the bus shall normally be restricted to its seating capacity. The carrying capacity of school buses and three-wheelers that transport school students should be displayed both inside and outside the vehicle.
Light vehicles that are used for transportation of vehicles must also adhere to the safety standard. In all such vehicles at a conspicuous place in the front and back side of vehicles 'school van' 'on school duty' must be written.