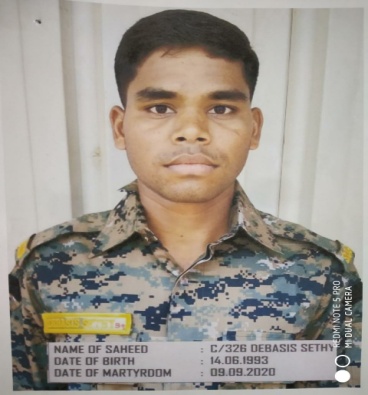 New Delhi: The Ministry of Defence has announced prestigious Saurya Chakra for Odisha Police's two Martyr Commandos Debasis Sethy and Sudhir Kumar Tudu. Saurya Chakra is awarded for exemplary bravery, valour and courageous action.
"We thank the Government of India for conferring this prestigious honour on two sons of Odisha Police," Odisha police DG Abhay said.
Both Sethy and Tudu were in SOG and engaged in operation against LW Extremists on September 9, 2020 in dense forest near village Sikri in Kalahandi district. Both put their own lives in danger and showed exemplary bravery, he said.
On this occasion, he expressed gratitude and pride for their valiant action. Both Commando Debasis Sethy and Commando Sudhir Kumar Tudu remain in the heart of Odisha Police personnel, the DGP said.
Martyr Debasis joined Odisha Police as constable on October 1, 2013 in 7th SIR Bn, Koraput. He was inducted in SOG on March 10, 2016. Since his induction he had worked with great zeal and enthusiasm in the field of anti-Maoists operation.
In this exchange of fire, Martyr Sethy on his own volition taking cover behind rocks and trees advanced towards the Maoists camp. His tactical & valiant advancement, putting his life in danger rubbed on other team members of the assault team.
Advancing against heavy firing during extreme adversities and very challenging terrain did not deter him. He successfully countered them displaying exemplary bravery and courage. Against this charge of the brave heart not only the Maoist had to retreat but they also suffered casualties.
In this process he sustained three bullet injuries, yet he successfully engaged the Maoist insurgents ignoring his extreme physical pain. Due to his gallant effort and determination the Maoist insurgents could not mount a flanking attack on the police team.
Similarly, Martyr Sudhir Kumar Tudu joined the Odisha Police as constable in October 2013 in 1st IR Bn, Koraput. He was inducted in SOG in June 2018.
In this exchange of fire, Tudu bravely came out from safe cover risking his life and advanced towards Maoist. During advancement there was imminent danger to his life as he was in the firing zone of the Maoists.
He marched ahead taking extreme risk in an attempt to thwart the design of the Maoists to inflict heavy casualties on the Police party. He went inside the camp resisting heavy fire and managed to attack the Maoists and make them retreat deep into the forest. He fought valiantly and inflicted heavy casualties on the Maoists. In the above gallant action, 5 hardcore Maoists were neutralized by the heroes.