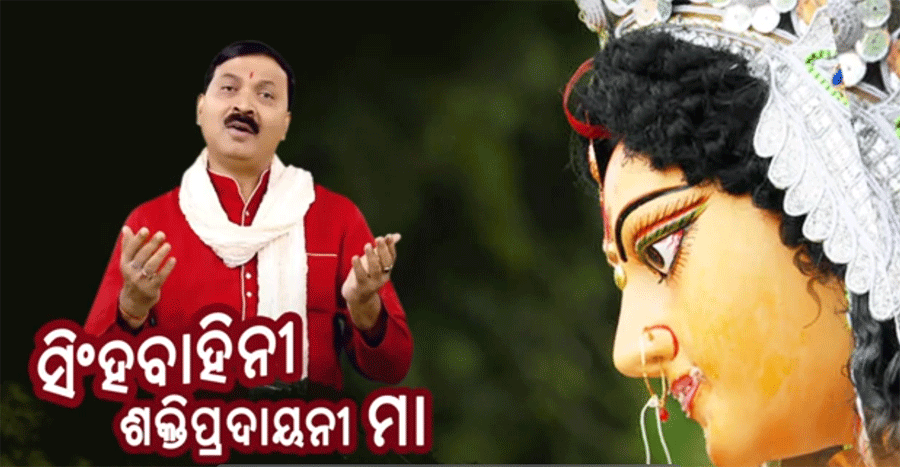 Bhubaneswar: On the auspicious occasion of the first day of Navaratri Festival, an Odia Bhajan song on Maa Durga sung by Veteran Mandarin and Ace Singer  Satyabrata Sahu was released on Monday. It has turned out a 'Navratri Hit', thanks to his long list of followers in You Tube.
Mr. Sahu renewed the old song 'Singha Bahini' of an old Odia movie Mana Akasha released in 1974. Mr Sahu sang it very beautifully rich with emotions and the music was also at its best.
The song with visual of Mr Sahu and Maa Durga has been uploaded on Youtube, https://www.youtube.com/watch?v=38Zk1Rud8eo
Akhil Sabata, a listener, has commented that Super recitation while Nibedita Maharana super liked the voice.
Earlier, the Veteran IAS Officer had recited the old and one of the best songs from Odia movie Dharitri, Swarga Dapi Gariyasi Janani Ma Dharitri.
Satyabrata has already sung more than 40 Odia Bhajans on several occasions like Rath Jatra and Shivaratri, Nuakhai like an able professional playback singer.
On Rath Jatra, his Bhajan songs on Lord Jagannath were released. On June 14, on the auspicious occasion of Debasnana Purnima, Mr. Sahu's Bhajan titled 'Thaau Re Kalia ThaauTo Snahana Setiki Thhau' was released.
Prior to that, his Bhajan songs Jagat Janani Maa Tara Tarini, Dukha Bujhanti Maa Tara Tarini, Sankata Harini Maa Tara Tarini and Dhanya Dhanya Tume Dui Bhauni released on one day.
On 2 February, for the first time, Mr.Sahu had sung the famous Odia Bhajan Jagannatha Ho Kichhi Magunahin Tate. The bhajan gives a divine-like feeling to the listener, even though the song has already been sung by famous singers like Bhikari Bal, Namita Agrawal, Arabinda Muduli.
On the occasion of Maha Shivratri, he sang a Bhajan on Lord Shiva, titled Deba Deba Mahadeva. The Additional Chief Secretary has also sung on Mo School Abhiyan, which was applauded across the State.
Mr. Sahu, an ardent devotee of Sai Baba, has also sung a beautiful bhajan on Sirdi Sai Baba. Even though being a hyperactive bureaucrat, his passion for singing bhajans is unmatched. Mr. Sahu takes time on holidays to sing bhajans, which is being appreciated across the state.