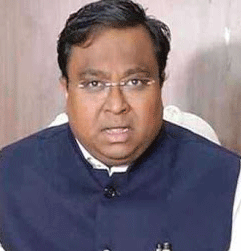 Bhubaneswar: BJD Supremo and Chief Minister Naveen Patnaik has appointed Rajya Sabha MP Dr Sasmit Patra as leader of Biju Janata Dal Party in Rajya Sabha.
Similarly, Sulata Deo has been appointed as chief whip of the party in the Upper House of Parliament. BJD Organisational Secretary Pranab Prakash Das has informed this in a press statement here on Friday.
Notably, Dr.Patra and Mrs Deo elected to the Rajya Sabha unopposed and took oath on July 18 and July 8, respectively. The BJD party leader in RS was laying vacant following completion of tenure of ex-member Prasanna Acharya.
Dr Patra, a doctorate in philosophy in management, is the third politician in BJD to have got renomination to the Upper House of the Parliament.
Since his induction in the Governing BJD, Dr Patra has been given due importance in the party for his loyalty and selflessness services. The party has appointed him national spokesperson and then elevated him to the RS.
For the first time, Dr Patra was elected to the Rajya Sabha in June 2019. During the tenure, he was appointed as Member, Joint Committee on Office of Profit, Committee on Education, Women, Children, Youth and Sports, Committee of Privileges, Consultative Committee for the Ministry of External Affairs, General Purposes Committee, Committee on Personnel, Public Grievances, Law & Justice and Consultative Committee for the Ministry of Law & Justice.
In July 2020, he was nominated to the Panel of Vice-Chairmen, Rajya Sabha. He was re-nominated on July 16, 2022.
Rajya Sabha Chairman and Vice-President M Venkaiah Naidu has praised Dr Patra for his work and behaviour in the House on several occasions.
He is an academician with expertise in management education, research and consulting; deeply involved in social and cultural activities among slum dwellers, Scheduled Castes, Scheduled Tribes and Minorities.