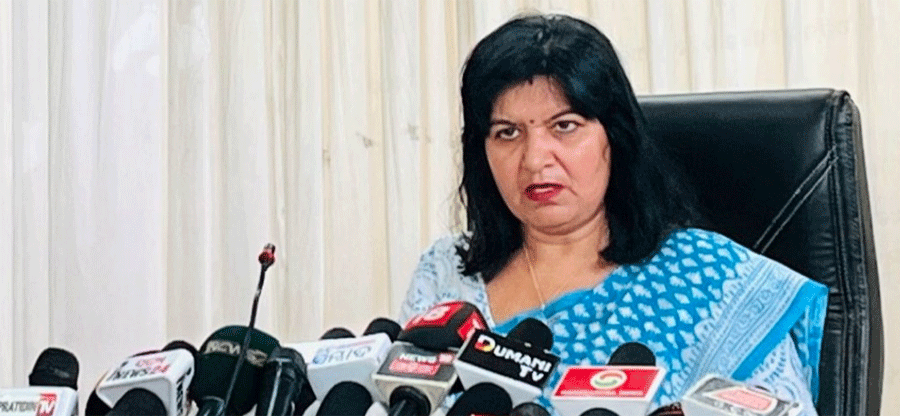 Bhubaneswar: Firebrand Saffron Leader and Bhubaneswar MP Aparajita Sarangi Monday accused the State's BJD Government of encouraging irregularities in the mining sector.
Shrimati Sarangi came down heavily on the state government and raised three major issues and alleged massive corruption and loss to the state exchequer to the tune of thousands of crores due to the collusion between state machinery and private miners during the handling of private mines.
She also alleged corruption arising out of unusual increase in the volume of export of low-grade iron ore from Odisha and no value addition. "Underutilization and non-transparency pertaining to District Mineral Fund (DMF) lying with the District Administration, is a major cause of concern," she said.
Stating that the mines are auctioned out as per section 8A (6) of Mines & Minerals Act, 1957 and the amendments from time to time, Shrimati Sarangi alleged that corruption & irregularities have been unearthed in Odisha which has been pointed out by the Central Govt. recently.
On the completion of earlier lease period, 20 major mines were auctioned in and around 31st March,2020. She said the mines produces both Iron Ore lump and fines. The iron ore containing 58% Fe content and below is considered to be low grade iron ore and are generally priced much lower than lumpy ore.
Calling the mining irregularities as a big scam, she alleged that the state government deliberately downgraded the quality of iron ore being produced in some auctioned mines, for which Odisha lost huge revenue. "This cannot be possible unless there is connivance between the government and the mines owners," she said.
Though it was expected that the mining corruption will decline after the Shah Commission report which detected loss of Rs 59,000 crore, the irregularities have increased manifold, even during the post auction period, she said.
She further claimed that the Shah Commission, set up by the Centre in November 2010, gave its report regarding various irregularities including Odisha government's turning a blind eye to illegal mining in different mines of the State. Following Shah Commission's report, the Comptroller and Auditor General (CAG) of Odisha slapped Rs 65,000 crore penalty on defaulting iron ore and manganese mine owners in the state.
"Though the state government was aware of the scam, it had not paid heed to Shah Commission's report", she maintained.
Odisha's Steel and Mines Minister Prafulla Kumar Mallick, however, rejected the allegation and claimed that the Centre has lauded Odisha's mines management and Odisha earned the highest among all states as mining revenue. The state has earned Rs 50,000 crore as mining revenue. "If the MP has any doubt, she should either contact the Mines Ministry or the Prime Minister for clarification." the Minister said