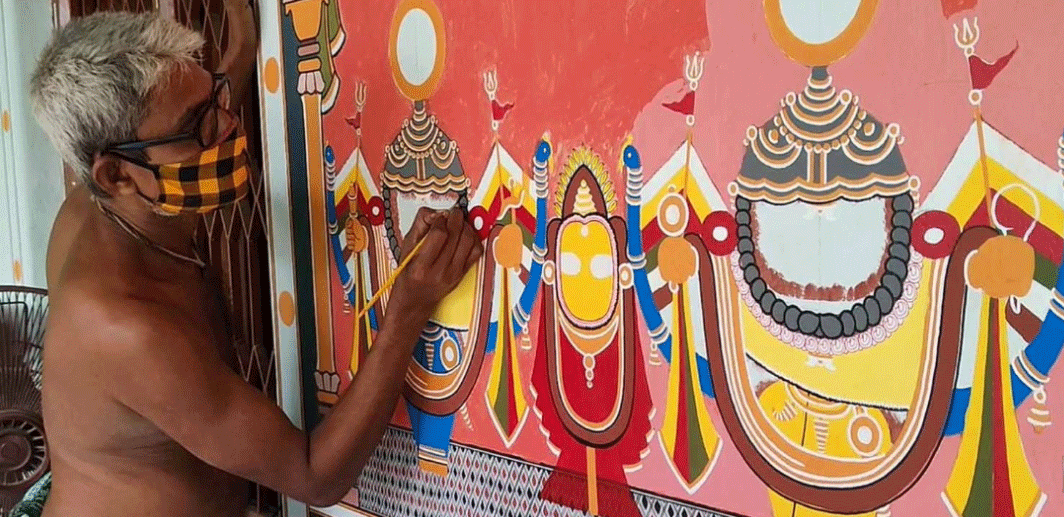 Bhubaneswar: Chief Minister Naveen Patnaik on Wednesday said that Raghurajpur village is the pride and glory of Odisha.
The paintings of the artists of this village have brought a lot of fame and prestige to Odisha today, he said and added that Raghurajpur is also the birthplace of the late Kelucharan Mohapatra, the great Odissi dance guru, he said at the valedictory function of the 'Saptarang' art camp held at Raghurajpur and organized by Oriya Language, Literature and Culture Department and the Odisha Academy of Fine Arts.
Noting that he had visited Raghurajpur on his way to Puri a few years ago with no pre-arranged schedule, the Chief Minister said that he had walked around the entire village and was fascinated by paintings on the walls of each house.
The entire village looked like an Art Gallery to him, the Chief Minister noted.
The Chief Minister also lauded the way the villagers organized the Gotipua dance in the village mandapa afterwards, and that memory of the people of Raghurajpur that day was an unforgettable memory for him and he will never forget it, he said.
The Chief Minister said that one of the identities of the State was the art of Odisha after Odisha's presiding deity Lord Jagannath.
"The government has always been and will continue to work for its protection and development," Mr.Patnaik asserted.
The Chief Minister was pleased to know that the seven-day infrastructure program in Raghurajpur was being fully documented and hoped that it would help in spreading our art all over the world through You tube as well as attracting tourists in the future.
Raghurajpur in Puri district famous all over the world for its art and culture and recognized as a World Heritage Village.
As art is the mainstay of the livelihood of the people of this village, a unique initiative was launched by the government to help the people of the village during the Corona pandemic on June 8.
All the 150 families of the village participated in the program and each of them painted traditional painting in an area of 50 square feet on the outer wall of their house. To this end, their families were awarded Rs 10,000.
On the last day of the program, Chief Minister Naveen Patnaik inaugurated the fundraising program as the Chief Guest Wednesday afternoon.