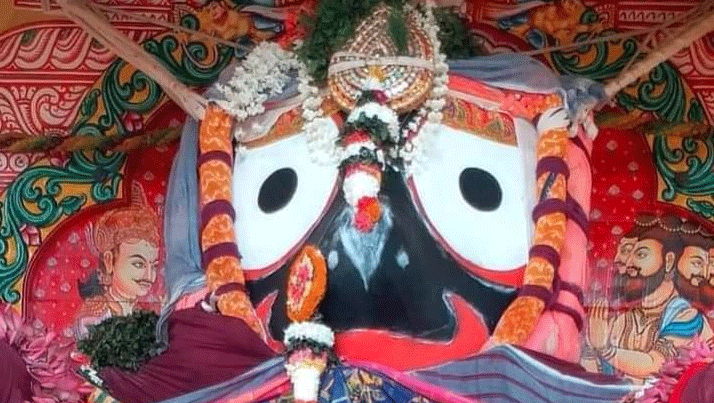 Puri: A day before Trinity's 'Bahuda Jatra' of the return car festival, thousands of devotees Friday had 'Sandhya Darshan' of the trinity- Lord Balabhadra, Devi Subhadra and Lord Jagannath, on Adapa Mandap in Shree Gundicha Temple here.

The Sandhya Darshan or the evening visit to the Trinity was the last chance to seek blessings of the divine sibling deities in Shri Gundicha Temple.
"Having Sandhya Darshan in Shree Gundicha Temple is considered as highly auspicious and helps a person to wash all sins," said a senior servitor.
However, there was displeasure among the devotees as the administration restricted Sandhya Darshan till 4 PM instead 7 PM in previous years.
"The Sandhya darshan of Lord Jagannath on Asadha Sulka Nabami is very auspicious. However, Adapa Mandap is not allowed for devotees from 4 pm onwards. However, the devotees had darshan throughout the day," pointed out he.

Generally, the Sandhya Darshan of deities is held in the evening. However, in view of smooth conduct of rituals of deities for 'Bahuda Jatra', the temple administration has decided to close the public darshan 4 hours before the schedule.
Though it is a fact that people are annoyed over the decision, but the servitors have to get ready to complete all rituals ahead of the return car festival.
The 'Charamala' through which the idols will be alighted from the 'Adapa Mandap' for 'Pahandi Bije' (procession) will be tied up to the door in the evening. Therefore, it would not be possible to allow the devotees to have darshan till late eveniing, said a senior servitor of the temple.

The temple official said that earlier the timing was till 7 PM because less number of devotees were coming for Sandhya Darshan. Now with better communication facilities, the devotees in thousands reach Puri on the occasion. Therefore, restriction is required, he said.