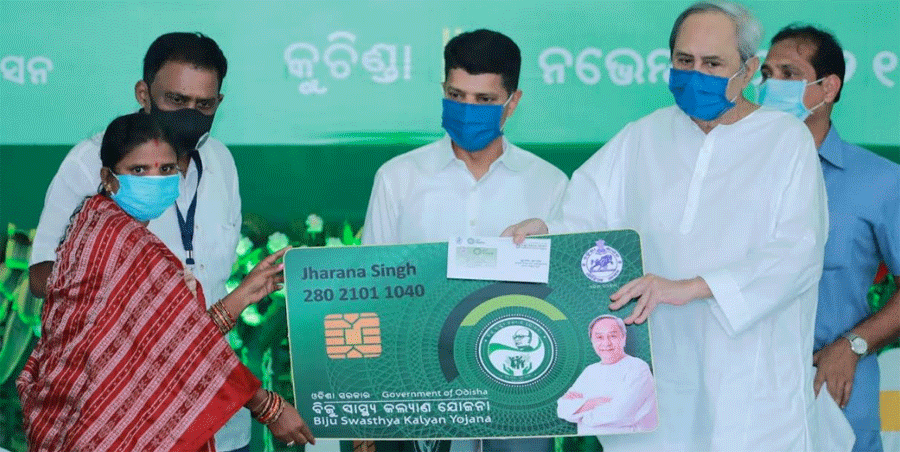 Sambalpur: Chief Minister Naveen Patnaik on Tuesday launched the distribution of smart health cards under the Biju Swasthya Kalyan Yojana in Kuchinda, and several welfare schemes worth over Rs 1553 crore for Sambalpur district.
Saraswati Bhoi of Kuchinda received the card from the Chief Minister as the first beneficiary of Sambalpur district under this scheme.
As many as 7.73 lakh people in the district will get healthcare facilities with the smart health card.
Notably, eight districts of the State, including Sambalpur, have so far been included in the programme.
Speaking on the occasion, Patnaik said that three and a half crore people in Odisha would benefit from the smart health card scheme.
"This will help our poor people get rid of many problems, especially financial ones. Now people can get better treatment at 200 major hospitals in the country without any hassles by holding a piece of card," he said.
Reiterating that every life is precious to him, the Chief Minister said, "Be it a farmer or a miller or a rickshaw puller, let everyone live a dignified life. It's the prime objective of the various welfare schemes implemented by my government."
Odisha is the only state where the government bears all the expenses from testing to treatment for all patients during the Covid pandemic, the Chief Minister said.
Expressing concern over the rising number of fatalities in road accidents, Patnaik said that many precious lives could be saved if immediate medical care could be provided to the road accident victims.
The Chief Minister announced that the state government has set up a Rs 147 crore fund for immediate treatment of the persons injured in road accidents.
"It is very important to provide medical treatment in the first four hours of the accident," he said.
Speaking about the contribution of Sambalpur district to the development of Odisha, Patnaik said that Sambalpur has an important role to play in culture, politics, education, history and economy of the state.
Sambalpuri saree and Sambalpuri songs are examples of the great cultural heritage of Odisha.
Stating that millions of devotees throng Maa Samalei temple to seek blessings, the Chief Minister sought the cooperation of all in the efforts of the government for the development of this temple and its adjoining areas.
Inaugurating projects worth over Rs 350 crore on the occasion, Patnaik said the State Government is focusing on drinking water and Rs 1,000 crore has been earmarked for drinking water projects in Sambalpur district.
"The drinking water could reach all the families in the villages and towns," he said, adding that all houses in Kuchinda and Redhakhol NACs have been provided with piped water.
The function was attended by Health Minister Nabakishore Das, Rural Development Minister Sushant Singh, Deputy Chief Whip of the ruling party Rohit Pujari.