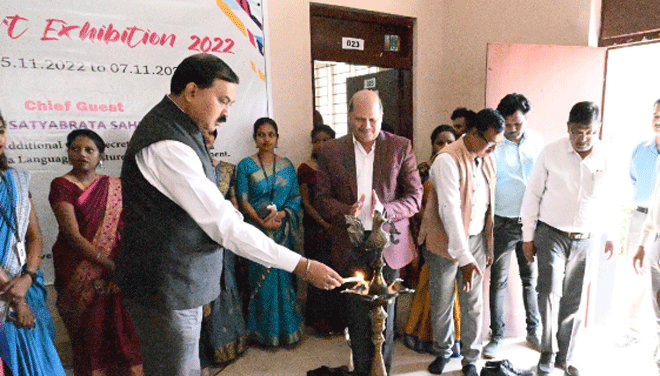 Bhubaneswar: Additional Chief Secretary (ACS), Odia Language, Literature and Culture Department, Satyabrata Sahu on Saturday visited Utkal University of Culture at Madanpur near Bhubaneswar.
He inaugurated the annual art exhibition of the University. More than 200 students from art, architecture and other departments of the university participated in this exhibition.
During the visit, the ACS inquired about the issues and problems of the institution and discussed with the teachers and students about solutions to the issues.
Mr.Sahu said that the Works Department will be asked to inspect the three academic blocks constructed by IDCO and hand over those to the university authorities as soon as possible.
The ACS has directed the university officials to set up an architectural park in front of the university by December 15 and asked the university authorities to take action to construct a theatre and an art gallery in the institute premises.
He directed them to develop the university as a Center of Excellence in the field of language, literature and culture.
During this visit, Chancellor of the Culture University Prof. Byomkesh Tripathi, Vice-Chancellor Anant Vijay Patnaik, Head of University Arts Department Head Chakradhar Behera and other senior officials were also present.