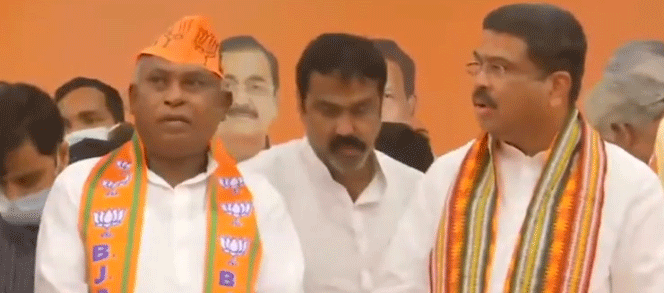 Bhubaneswar: Former Minister and four-time BJD MLA Sanjeeb Sahoo along with hundreds of his supporters on Friday joined the BJP here at a function.
Mr.Sahoo joined the BJP in presence of Union Minister Dharmendra Pradhan and State President Samir Mohanty.
"I traveled across my constituency for a month and discussed with various my supporters. All of my supporters have said that they will continue to support me wherever I go. So, as per their suggestion, I joined the BJP today," Mr.Sahoo said.
The ex-Minister further said that he joined the BJP for overall development of his area.
Mr.Sahoo had resigned from the BJD on November 3 last citing personal reasons. The 61-year-old politician was first elected from Birmaharajpur on a BJD ticket in 2003 by-poll. He was re-elected to the Odisha Legislative Assembly from the same constituency in 2004. Later, he was elected to the Assembly from Athmallik constituency twice in 2009 and 2019.
However, the BJD had not granted a ticket to the veteran leader during the last elections in 2019.
Mr.Sahoo was a Minister of State, Panchayati Raj and Science & Technology from 2006 to 2008.Sahoo also held the position of Minister of State (independent) of School & Mass Education and Commerce & Transport from 2008 to 2009 and from 2009 to 2012, respectively.