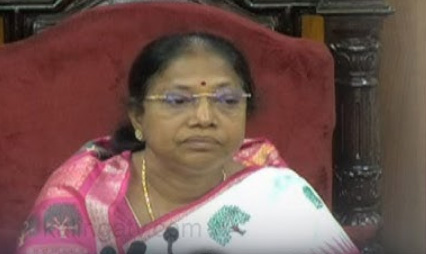 Bhubaneswar: Following a ruckus created by BJP MLAs, Speaker Pramila Mallik today expunged the remark made by BJD legislator Arun Kumar Sahoo on the LoP Jayanarayan Mishra from the Assembly proceedings.
The Speaker made an announcement in this regard in the House this evening as the BJP members disturbed all proceedings of the Assembly during the entire pre-lunch and major part of the post-lunch session.
The legislators of Opposition BJP stalled the proceedings of the Assembly on Saturday by creating a ruckus over the statement of Sahoo. They created a ruckus in front of the Speaker's podium inside the well of the House demanding the MLA's remarks to be expunged.
With no way out, the Speaker conveyed an all-party meet and later the Speaker announced that Shri Sahoo's remarks on the BJP leader stand expunged from the official records.
On Thursday, Shri Sahoo had made the statement after Jayanarayan Mishra and Congress Legislature Party Leader Narasingha Mishra raised some questions on the tour of 5T Secretary and Chief Minister's statement in this regard in the House.
"Two Mishras have been criticising the 5T governance style of the government. There has been overall development in all the constituencies including those of Opposition MLAs under the 5T initiative," Shri Sahoo said.
There seems to be some "mental health disorder" and requested all to come to the House in a good mental health condition, he added.
On the other hand, the BJP members trooped into the Well of the House and demanded immediate expunction of the words "mental disorder" from the record.
The Speaker on Thursday suspended two BJP MLAs— Mohan Charan Majhi and Mukesh Mahaling for the rest of the session after they allegedly threw pulses at the Speaker's podium.
Meanwhile, Leader of the Opposition Jaynarayan Mishra said he was not feeling safe both inside the House and outside it.
"A few days ago, BJD workers ransacked the Sambalpur Circuit House thinking I was present there. I would have been killed had I been there. Chief Minister Naveen Patnaik will be responsible if something happens to me and my family," he told reporters outside the House.
The LoP said he had returned to state security after the assassination of the then health minister Naba Kishore Das by a police officer on January 29 this year. "If a minister can be killed, what can other MLAs expect from the Odisha Government?" he said.
Dismissing Shri Mishra's allegation, BJD MLA Rajkishore Das said, "The Odisha CM considers every life as precious… everybody is safe here. It appears the LoP is making such statements only to hog the limelight as there is no reason for saying such things."