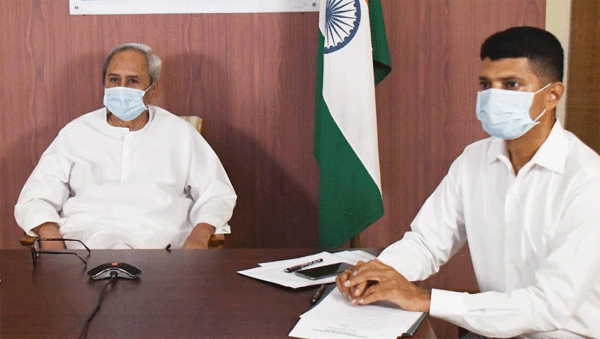 In a move to make people's life hassle free and , taking into account the lives of a farmer in the remotest of area, the Department of  Revenue and Disaster Management has started the process of simplifying the kisams and satwas recorded in the Record of Rights or 'Patta". 
The Board of Revenue has joined hands with DoRDM in this regard and consequently rationalizing the fixation of fair and equitable rent to bring about parity resulting in simplifying the land administration in a revolutionary way.
As per the 5T initiatives of Chief Minister Naveen Patnaik  and overdrive of Secretary 5T VK Pandian, the Revenue Administration in the state has has initiated simplifying the erstwhile cumbersome procedures through digitization of Land Records, Online Payment of Land Revenue and mutation of land in the shortest possible time. 
Thanks to a Team Spirit of Member Board of Revenue, CJ Venugopal, Principal Secretary Revenue & Disaster management, Bishnupada Sethi and Secretary Board of Revenue, Bijaya Ketan Upadhyaya, the lives of landholders will be much easier and hassle free through transparency ending the era of discretionary power. 
Through Bhulekh application the land particulars have been made accessible and transparent. With daily updation one can get correct data regarding a piece of land anywhere in Odisha. 
After digitization it came to the notice of Government that in spite of issue of guidelines and instructions published in the "Kisam Niyamabali" and "Rayati Jami Record Kariba Pranali o Satwa Niyamabali", by the Board of Revenue in the years 1992 and 1975 respectively, there is still existence of 7797 types of Kisam and 750 types of Satwas still in vogue in the Record of Rights. 
During Settlement and Consolidation operation the Record of Rights is prepared and along with other information, the Kisam, Satwa and rent payable by the tenant is recorded as prescribed under Rule 48(2) of the Odisha Survey and Settlement Rules 1962, keeping in view the crops grown on the land, nature of soil, situation of the land in village and source of irrigation.
 The major reason for such a huge number of kisams found in Record of Rights is use of different vernacular names for the same kisam of land & difference in spelling the names. 
Out of these 7797 kisams, 151 kisams of jungle is there and 1308 kisams pertaining to purely Government land is found for example Gochar, Samudra, Pahada etc. The rest 6,338 kisams have been classified into 12 major kisams. 
This was necessary to bring about a universal or agnostic nomenclature for ease of understanding, parity in fixation of fair and equitable rent which is again different in different areas of the State for the same kisam, easier transfer of land while land acquisition either for industrial or other purposes, simplification in payment of compensation or subsidies to the farmers during natural calamities. 
During the changed times and digitization of land records reclassification or remapping of the present Kisams of land has become inevitable. Hence, the Abadi lands in Odisha were classified into the following major Kisams:-Irrigated Two Crops, Irrigated One crop, Non irrigated (Rainfed), Orchards (Bagayat), Water bodies (Jalashaya), Homestead (Gharabari), Commercial (Byabasaika), Industrial (Shilpabhttika) , Forest (Jungle), Institutional(Anushthan), Mine (Khani Khadan)&Others. 
In the second phase the rationalization of purely Government kisam(1308 in number) recorded in the four Government Khatas namely, Abada Jogya Anabadi, Abada Ajogya Anabadi, Rakhit and Sarbasadharana shall be taken up. Similarly, Satwa is the right of the land owner and is recorded during preparation of Record of Rights. It is a matter of great concern that even after the enactment of the Odisha Land Reforms Act, 1960 and Odisha Estate Abolition Act, 1958, there is still existence of 750 types of satwas, majority of which are of intermediary status. 
In this rationalisation, the 750 satwas have been rationalised into five major satwas namely-Raiyati or Sthitiban or Freehold,Pattadar or Lease Hold, Amrutamanohi, Endowment lands or Debottar/ Pirottar etc&Trust Estates.Government land or sarakari shall be in addition to these five satwas. 
It is inevitable that the changes in satwas shall be done after due hearing and giving an opportunity the land holder or otherwise by the competent authority under the prescribed Acts and Rules. Accordingly, a proposal was moved by Board of Revenue for rationalisation of Satwas and Kisams and after a meeting held at the level of the Chief Secretary, Asit Tripathy it was decided to take suggestions of all stake holders including the elected Representatives through RDC Level Workshops. Due to the pandemic, two Virtual Workshops have already been conducted through Video Conference by RDC(Southern Division), Berhampur on 30 August and RDC(Northern Division), Sambalpur on 5 November.  
In the VCs Speaker, Odisha Legislative Assembly , Surjya Narayan Patro, Leader of Opposition,Pradipta Kumar Naik, Ministers, Members of Parliament, Members of Legislative Assembly, Principal Secretary, Revenue and Disaster Management Department, Bishnupada Sethi, Secretary, Board of Revenue,Bijaya Ketan Upadhyaya and  all District Collectors of the Divisions along with their team participated and welcomed the initiatives taken.  
Extensive discussion was made after the RDC Level Workshops and compilation of all the suggestions and opinions shall be done and the final paper shall be submitted to Government in Revenue and Disaster Management Department by the Board of Revenue for taking an appropriate decision in this matter.