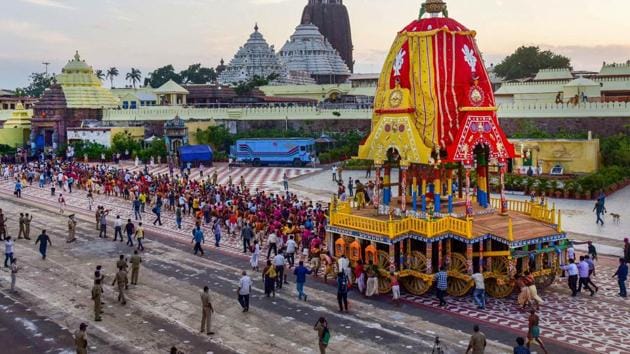 Bhubaneswar: Like last year, the Annual Rath Jatra to be conducted in Shree Jagannath Temple Puri without devotees and imposition of curfew in the city due to the ongoing Covid-19 pandemic. Shree Gundicha  Jatra scheduled to be held on 12 July this year.
Addressing a press conference here on Thursday, Development Commissioner and Special Relief Commissioner (SRC) Pradeep Kumar Jena said, "In view of prevailing second wave of Covid-19 and for the interest of public health, the State Government has decided to conduct the Rath Jatra this year in Puri only following Covid norms and Supreme Court instructions. No other temple in Odisha can organise the festival this year."
Strict rules will be imposed for organising the Rath Jatra in Puri. No devotee can participate in the festival. Only the Sevayats, who have tested RTPCR negative or fully vaccinated (got two dose) can participate in the festival, Jena said.
As per the Supreme Court's guidelines, maximum 500 persons will be allowed to pull each chariot during the festival.
Pulling of the chariots will be performed by Sevayats, Police personnel or any other officials as permitted by the temple administration. All such persons must have been vaccinated with two doses or have tested negative in RT-PCR tests done within 48 hours prior to Ratha Jatra, he said.
No devotees shall be allowed to participate in the Ratha Jatra rituals and associated activities including pulling of Rathas (chariots).
He further said the Information and Public Relations (I&PR) Department will facilitate for direct live telecast of the festival to the interested media house and broadcasters, he added.
Ratha Jatra cannot be celebrated in any other place of Odisha. However, rituals relating to Ratha Jatra can be performed in temples within its premises. No chariots shall be pulled in places and temples in the State except Puri.
There will be sufficient interval between pulling of two chariots. Social distancing shall be maintained as far as practicable by the persons pulling the Ratha (s)/ chariot(s) before, during and after the Rath Jatra.
The other rituals associated with the festival such as Snana Jatra, Shree Gundicha Jatra, Bahuda, Nabami Darshan, Suna Besha, Adhar Pana Niti, Niladree Bije etc. shall only be performed by Sevayats found negative in RT-PCR test or having Final Vaccination Certificate and such Sevayats will maintain social distancing as far as practicable while performing the job.
Curfew will be imposed in the entire Puri city during the festival. However, Jena said, essential and emergency services will be allowed. Vehicular movement to and from Puri will be restricted during the entire festival period.
All entry points in Puri town like railway station, bus stand, roads, rivers and sea routes will be closed during period of Ratha Jatra and on any other days as deemed necessary by the District administration.
"Any person violating these measures will be liable to be proceeded against as per the provisions of Section 51 to 60 of the Disaster Management Act, 2005, and Covid-19 Regulations 2020, besides legal action under Sec 188 of the IPC, and other legal provisions as applicable," the Government said in an order.
Last year also in view of Covid-19 outbreak, the Supreme Court had asked the State government to conduct the festival only in Puri and without participation of devotees along with other restrictions. Accordingly, the State had very successfully organised the festival.