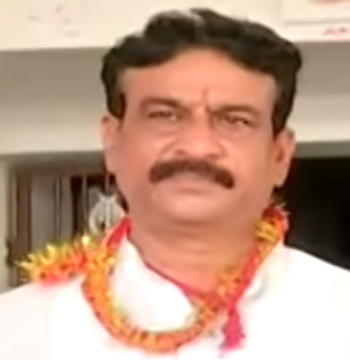 Bhadrak: In a jolt for Biju Janata Dal (BJD), its rebel candidate Rajendra Kumar Das did not withdraw his nomination and has remained in the fray for Dhamnagar by-election scheduled on November 3.
At the end of the deadline set for withdrawal of nominations, five candidates have remained in fray for the Dhamnagar assembly constituency.
Apart from BJD's Abanti Das, BJP's Suryabanshi Suraj and Congress' Baba Harekrushna Sethi, two independent candidates—Rajendra Kumar Das and Pabitra Mohan Das are contesting in the seat that fell vacant following the demise of BJP lawmaker Bishnu Sethi.
Pabitra Mohan Das has been allotted the symbol of air conditioner while Rajendra Das will fight the by-poll on the symbol of floating boat with boatman and pole.
It appears that the Governing Party crisis managers have failed to placate Raju Das, who has been denied ticket for the by-poll. For the first time, the BJD is facing such a situation in any by-poll.
Meanwhile, the office of the Chief Electoral Officer (CEO), Odisha has made elaborate arrangements for the by-election.
Addressing media persons here, CEO SK Lohani said in the process of scrutiny one candidate was rejected and there were a total five candidates.
There is a braille ballot facility for visually challenged voters and postal ballot facility for absentee voters like flagged PwDs, Senior citizens above 80 + years who have opted for the Postal Ballot, he said.
As on the last date of nomination, there are 2,38,417 voters in the Assembly segment, of which Male—123038, Female—115346 and transgender—33.
Total 252 Polling Stations have been set up. Special provisions for absentee voters in the category of PwD and 80+ senior citizens have been made, said Lohani.
As many as 20 polling parties (14 for Dhamnagar Block area and 6 for Tihidi Block area) comprising two polling officers, one micro observer, one video person and one security personnel will be visiting the voter along with the voting compartment and voting box for collecting the postal ballot.
General voters will vote in the polling stations in the EVM like earlier By- Elections. Polling will be conducted between 7 AM and 6 PM.
Webcasting will be done in 126 booths i.e. 50% of the total number of booths while 26 Micro Observers deployed in the critical and sensitive booths till now, said Lohani.
The EC has identified 107 sensitive booths. Four companies of CAPF (CRPF-2 +BSF 2 Companies) have been assigned for the Assembly Constituency along with sufficient state police ie. 17 platoons have also been deployed to maintain law and order, he stated.
The Model Code of Conduct is in force since October 3, 2022 in the district. Violations like defacement of public property are being set right, posters and banners are being seized.
As many as 187 licenced-arms have been deposited, 1167 persons have been bound down under Preventive Sections of CRPC, 53 non-bailable warrants have been executed, he informed.
The Surveillance Teams are fully active in the Constituency area and important check points of the district.
Excise enforcement is also going on. 51 cases have been lodged, 48 persons arrested and seizure of excise items IMFL, Beer and vehicle etc. of value Rs.10,48,486 has been made.
The CEO said dry day has been declared in the district from 48 hours prior to the day of poll i.e. 6.00 PM of November 1, to 6 PM of November 3 and on day of counting i.e. November 6, 2022. The day of the poll has been declared a paid holiday for voters of the Assembly constituency.