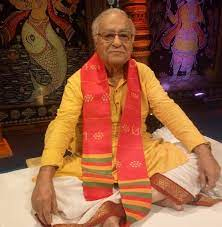 Bhubaneswar: Padma Shri Rajat Kumar Kar is no more.
Mr.Kar, an eminent litterateur passed away at a private hospital in Bhubaneswar on Sunday, his son said.
He was 88 years old and had heart-related ailments, he said.
Mr.Kar complained of chest pain around 5 PM and when rushed to the hospital, doctors declared him dead, said he.
Mr.Kar was fine till noon and went to take rest after having simple lunch.
However, he complained of uneasiness soon after getting up from the bed, following which he was taken to the hospital, sources said.
Mr.Kar, who was conferred with Padma Shri in 2021 for literature and education, earned name in the field of Shree Jagannath Culture.
An ardent devotee of Lord Jagannath and an excellent orator on Shree Jagannath culture, was known for his wonderful commentary during the annual Ratha Jatra on TV and radio over last 60 years.
Mr.Kar tried his level best for the revival of Odisha's dying art of Pala and Das Kathia.

He was a prolific writer on Kabi Samrat Upendra Bhanja literature and has seven non-fictions to his credit. He has also written a number of books on Lord Jagannath.
Started his career as an educationist and superannuated from service as Director Teacher Education and Training of Odisha.
And for last several decades he was spreading Shree Jagannath Culture across the State.
A sociable and amiable personality has been always helpful to the people, pointed out a senior scribe.