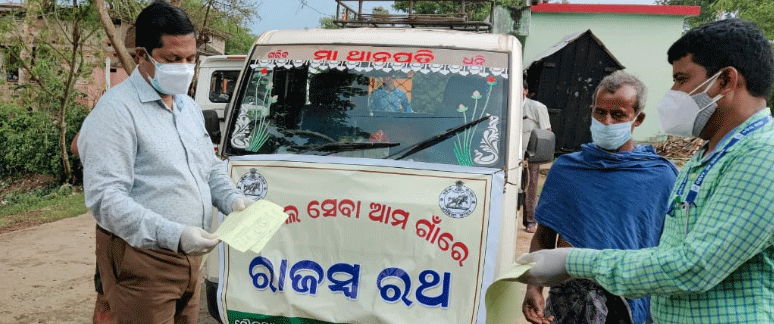 Bhubaneswar: Taking a cue from Ganjam District, Revenue and Disaster Management Department has launched an innovative way of delivery of public services through 'Rajaswa Ratha.'
One after another district has been emulating the 'Rajaswa Ratha' Model of Ganjam, thanks to overdrive of the senior officials of various districts.
The revenue services are now on wheels. It is meant for collecting various applications and documents in connection with mutation and certificate services as well as for distribution of RoRs and certificates at the doorstep of citizens.
Principal Secretary Revenue and Disaster Management Bishnupada Sethi monitoring the innovative program implemented across the State on 13 May.
While Rajaswa Ratha started at Birmitrapur Tahasil in Sundargarh district and delivered 11 Forest Rights Act (FRA) Titles at doorstep of beneficiaries.
FRA recognizes the rights of the forest dwelling tribal communities and other traditional forest dwellers to forest resources, on which these communities were dependent for a variety of needs, including livelihood, habitation and other socio-cultural needs.
Similarly Tahasildar, Lathikata started Rajaswa Rath to deliver Pattas.
The Record of Rights (RoR)s were distributed in the village Bandhapara and Baipur of Sahaspur circle.
Sub Collector, Tahasildar and Additional Tahsildars were present at the time of distribution Delivery of door step service by Rajaswa Rath in Kendrapada District during Pandemic.
Rajaswa Ratha for Gondia Tahasil in Dhenkanal District was organized in view of the prevailing COVID-19 Pandemic.
As the State Government has decided to deliver public services pertaining to Revenue and Disaster Management Department at their doorsteps through Rajaswa Ratha, various Tahsils have started implementing the programme.
Earlier, Sethi had directed Collectors of 29 districts to emulate Ganjam's model to provide revenue services to the public through Rajaswa Ratha during COVID-19 pandemic.
The senior official reiterated that under the 5T initiative, the Revenue and Disaster Management Department has undertaken many citizen-centric initiatives to deliver public services to citizens in a time-bound, transparent and hassle-free manner.
Though the mutation and certificate services delivered at Tehshil offices have been made completely online, people having no internet access at home or lacking digital literacy are visiting Revenue Offices or Mo Seva Kendras for assistance. In view of the pandemic situation, public access to revenue offices has been curtailed.
Rajaswa Ratha is organized for collecting applications and documents for mutation, certificate services and distribution of RoRs and various certificates at the doorsteps of citizens.
This is one of the 'Best Practices' of the revenue administration, which is trying to provide services at door step of the people in COVID-19 Pandemic, said a senior official.