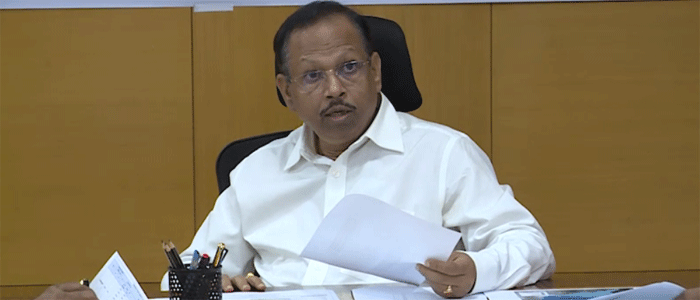 Bhubaneswar: The depression in the Bay of Bengal intensified into a deep depression bringing rainfall in North Odisha districts, the India Meteorological Department (IMD) said on Friday.
However, it has ruled out a possible cyclone. Social media was flooded with posts on the possibility of a cyclone following the US Joint Typhoon Warning Center's (JTWC) warning on Thursday that the system has the potential to intensify into a cyclone.
"There is no possibility of a cyclone this time. We have never said that the system will take the shape of a cyclone," IMD Director General Mrutunjay Mohapatra said.
The system will move along the coast as a deep depression at a wind speed of 60 to 65 kmph and it is unlikely to intensify further, he said.
The system, which lay about 200 km east-southeast of Balasore in Odisha and 100 km southeast of Sagar Island in West Bengal, will move west-northwest wards across north Odisha, West Bengal and Jharkhand towards north Chhattisgarh as a deep depression.
Under its influence, squally surface wind reaching up to 55-65 kmph is expected in coastal areas and 30-40 kmph in interior districts of Odisha.
"North Odisha will receive the maximum rainfall today while rain intensity will increase in western districts tomorrow," Mohapatra said.
The IMD has issued a red warning for heavy to very heavy rainfall, with isolated extremely heavy falls, for Keonjhar, Bhadrak, Balasore and Mayurbhanj districts till 8.30 am on August 20.
It has also forecast heavy to very heavy rainfall at a few places in districts such as Kendrapada, Jagatsinghpur, Cuttack, Dhenkanal, Angul, Deogarh, Sundargarh, Sambalpur, Sonepur, Boudh, Balangir and Jajpur during this period.
An orange warning also continues for the subsequent 24 hours with a forecast for heavy to very heavy rainfall at one or two places in Jharsuguda, Sundargarh, Keonjhar, Deogarh, Sambalpur, Bargarh, Sonepur and Bolangir districts.
Heavy rainfall is very likely to occur at isolated places in Mayurbhanj, Angul, Boudh, Kalahandi, Nuapada, Nabarangpur and Dhenkanal districts, the IMD said.
Meanwhile, Chief Minister Naveen Patnaik in a video message made a special appeal to the residents of four districts.
"As per IMD forecast, heavy to very heavy rainfall is likely in Keonjhar, Mayurbhanj, Balasore and Bhadrak tonight. I appeal to people not to panic rather follow the instructions of the administration," he said.
Stating 'every life is precious' for the Odisha government, the CM said everybody should stay safe and ensure safety of family members as well.
Speaking to reporters here, the SRC said the low pressure area, which is now converted as deep depression, might have an impact on the rivers of Bharamani, Baitarani , Budhabalanga and Bheden and likely to affect Balasore, Keonjhar, Mayurbhanj and Sundergarh districts.
He said a strict vigil is kept on the situation and NDRF, ODRAF and Fire service teams have been rushed to these areas to undertake rescue and relief operations if needed.
Discussion with the concerned District Collectors has been made and all steps have been taken at the administration level to counter the possible flood situation.
Jena said that they are examining various weather models over the possibility of intensification of the system into a cyclonic storm.
"Only JTWC has said that the system has the potential of becoming a cyclone while the India Meteorological Department (IMD) suggests it will cross the coast as a deep depression. Moreover, the track of JTWC and IMD is almost the same. Ruling out the possibility of a cyclone, all necessary steps are being taken," Mr.Jena said.
The water level has started receding in other areas except for Kanas in Puri district and no new breaches have been reported so far. A total of seven breaches have been reported in the Mahanadi system so far, Jena added.
The Special Relief Commissioner (SRC) said that now 20 gates have been opened in Hirakud Dam to discharge excess floodwater. "The water level has come down to 622ft and is at 621.93 ft now. The current inflow is 3.23lakh cusecs while the outflow is 4.10 lakh cusecs. The water level is expected to reach around 620.5 feet by Saturday morning," he said.
"The water flow near Munduli is 9.48 lakh cusecs and the water level near is decreasing very slowly due to rains," said Mr.Jena.
He added that due to rainfall in various parts of the state, it is expected that the water level will rise in the lower catchment of the Hirakud and therefore it has been decided to close 4 more gates of the reservoir.
While the water level has decreased in the lower catchment of Mundali, there are no reports of any embankment breach. However, many villages are still marooned as the floodwater is yet to recede, he added.