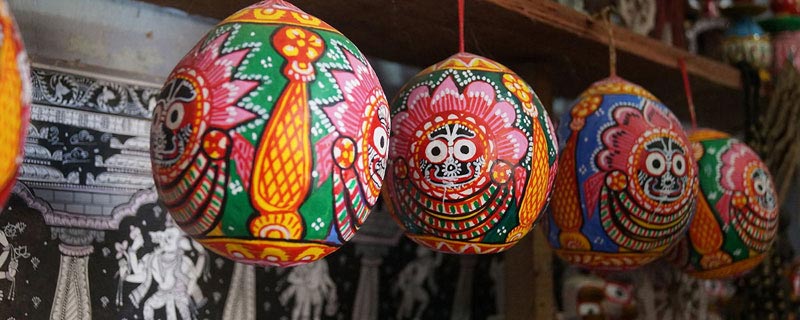 Bhubaneswar: The Ministry of Textiles is developing Raghurajpur craft village of Puri district under the 'Linking Textile with Tourism' initiative.
The Ministry has selected eight craft villages across India including Odisha's Raghurajpur under the program to attract more number of tourists to the place.
Once known as the keepers of Odisha's ancient pattachitra art, largely due to late Jagannath Mohapatra (winner of President of India's award in 1965) who lived here, today the village houses artists practising various traditional arts.
In 2000, Indian National Trust for Art and Cultural Heritage (INTACH) declared Raghurajpur a 'heritage village', which has helped the artists explore other traditional art forms as well. Both men and women work as artists.
The artists are mostly friendly towards visitors and not averse to sharing details regarding the origin of the art or the techniques involved. Many families even invite visitors to their household.
Raghurajpur heritage village went into a frenzy after getting to know that the masterpiece 'Tree of Life' made by one of their clan was presented by Odisha Chief Minister Naveen Patnaik to the Pope in Rome during his recent visit to Rome.
Prominent on the state tourist map, the village is frequented by scores of tourists to buy Pattachitra works. After declaring Raghurajpur as an art village, the State government tagged it also as a heritage village.
The other villages—Tirupati (Andhra Pradesh), Vadaj (Gujarat), Naini (Uttar Pradesh), Anegundi (Karnataka), Mahabalipuram (Tamil Nadu), Taj Ganj (Uttar Pradesh), Amer (Rajasthan) have already been taken up for overall development of the villages wherein craft promotion and tourism are being taken up at single location, officials said.
Major tourist places are being linked with handicrafts clusters and infrastructure supports combined with soft interventions are being proposed under the "Linking Textile with Tourism".
Craft village will develop handicrafts as a sustainable and remunerative livelihood option for artisans in the clusters and thus protecting the rich artisanal heritage of the country.
Through this program, around 1000 artisans will be benefited directly across the country. This program has also increased the tourist inflow across these craft villages, they said.