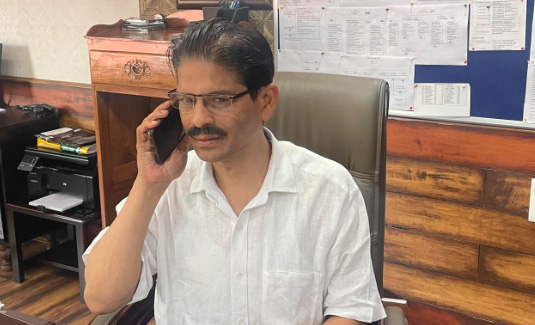 New Delhi: Top Cop Rashmi Ranjan Swain will take over as DGP Jammu & Kashmir on 1 November.
1991 Batch IPS Officer Shri Swain serving as Special DGP CID will take charge from Dilbag Singh, who will retire on October 31 as the longest-serving DGP of Jammu and Kashmir.
"With the approval of competent authority, Shri R R Swain, IPS (AGMUT 1991), presently posted as Special DG (CID), Jammu and Kashmir, will also function as In-Charge Director General of Police, Jammu and Kashmir, in addition to his existing charge with effect from November 1, 2023 and until further order," the order said.
Shri Swain, who served as SSP Jammu and Srinagar as well as SSP of Ramban, Poonch and Leh is an honest, hardworking and simple Top Cop, admit officials in J&K Secretariat.
He served in Government of India for 15 long years and returned to J&K in 2020.

Presently serving as the Intelligence Chief of the Union Territory, Shri Swain had also served in the J&K Vigilance organization in 2004-06 as AIG and DIG.
He is known as a Tough Cop and handled terrorism with iron fist, for which earned laurels.
Born on 18 September, 1964 and brought up in Civil Town Rourkela in Odisha is having M.Phill Degree.
He has been awarded several Police Medals for his single minded devotion for the country and to destroy terrorism in J&K.
Known as a soft speaking Top Cop, Shri Swain has made his presence felt in the J&K Administration as an honest and hardworking IPS Officer.