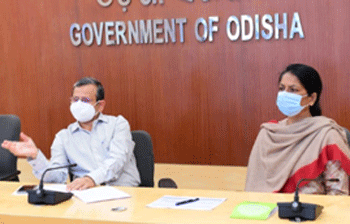 Bhubaneswar: Transform the urban slums to livable habitats with basic road, electricity, drinking water and community space facilities directed Chief Secretary  Suresh Chandra Mahapatra while reviewing the progress of the grant of land rights to slum dwellers in a high level meeting held in Lokseba Bhawan conference hall today.
Principal Secretary Housing and Urban Development G Mathivathanan outlined the issues for discussion.
Reviewing the progress, Chief Secretary Mr.Mahapatra directed to provide land rights to all the eligible houses under Jaga Mission as announced by Hon'ble Chief Minister.
Principal Secretary Mr.Mathivathanan appraised that Odisha's Jaga Mission has been recognized as a Pioneering Model by United Nations. It is world's largest slum titling project.
The Mission has also got HUDCO's Best Practice Award for the year 2018-19. Janagrha, a leading international civil society organization working for improvement in urban living conditions has also conferred Best State Award on Odisha for the year, 2020.
Review show that drone survey and socio-economic survey in 48 municipalities and 61 NACs have been conducted as per the Land Right to slum Dwellers Act of 2017. Around 1.65 lakh households (HHs) have been identified and listed for grant of land rights. Out of them 60,000 HHs have already been given the Land Right Certificate. The balance About 1.5 lakh HHs have been issues land entitlement letters.
Chief Secretary Mr.Mahapatra directed revenue and disaster management department to expedite the matters relating to demarcation and conversion etc so that land rights against the landless HHs in slums can be settled. Further, Sri Mohapatra directed that provisions of the Forest Conservation Act should be adhered to while laying the minimum basic infrastructure in the forest category land within the urban areas.
Additional Chief Secretary Forest and Environment , Mona Sharma, Principal Secretary Revenue and Disaster Management, Bishnupada Sethi, Principal Secretary Law, Sashikanta Mishra, Director Municipal Administration Sangramjit Nayak, Additional Secretary Revenue and Disaster Management Avaya Kumar Nayak along with other senior officers of concerned departments participated in the discussions.