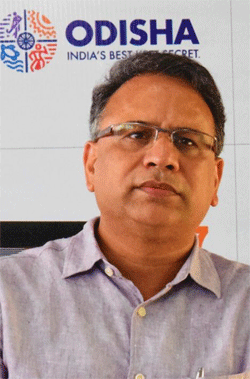 Bhubaneswar: With more thrust on timely spending for developmental projects, Program Expenditure has increased by more than 25 Percent, which has boosted the pace of development in the state.
Out of Rs.2 Lakh Crore of the Annual Budget for 2022-23, size of the outlay on the various Development Programs is Rs.1 Lakh crore which is 50 Percent of the total Budget size.
Vishal Dev, Principal Secretary Finance reviewed the Program Expenditure in a detailed way and the latest Report on Program Expenditure by 31 December reveals that Program Expenditure in Infrastructure Sector has gone up by more than 103 Percent, which is one of the records in these years.
Mr.Dev during the review pointed out that while the State Government has injected more funds in the Capital Outlay of the Annual Budget and Supplementary Budget, impact has been felt in improvement of spending in Infrastructure Sector.
Mr.Dev said that "the Government spending has been focusing in higher capital investment in education, health, drinking water facilities, irrigation, rural connectivity, sanitation and urban civic amenities".
Principal Secretary Finance said that "The priorities of the State Government in the medium-term are to ensure quality universal education, health services and livelihood to all the citizens".
Mr.Dev said that "Capital expenditure has shown an average growth of about 15% during the same period. Higher growth in capital spending has resulted in steady growth in Capital outlay to GSDP ratio over the years".
The program Expenditure in Infrastructure Sector till 31 December is 54.7 Percent of Budget Estimate as compared to 32.7 Percent previous year. And in absolute terms it has increased by 103.1 Percent.
Similarly Program Expenditure in Agriculture and Allied Sector till 31 December has been 53.2 Percent of Budget Estimate as compared to 52.5 Percent previous year.
Budget utilization in this primary sector has increased in absolute terms by 20.2 Percent. Odisha is an agrarian state and spending in this sector will boost the economy, officials feel.
In Agriculture Sector, the thrust is increasing the income of farmer through encouragement of fisheries and animal rearing, provision of improved marketing infrastructure, price support, crop diversification, mechanization, and income support to small, marginal and landless farmers.
Expenditure in Social Sector has also increased with more thrust on Health Care and Education given by the State Government.
Social Sector Program Expenditure by 31 December has gone up to 46.5 Percent and during coming months it will take off in a big way, feel Principal Secretary Mr.Dev, sources said.
Total Program Expenditure by 31 December was 46.3 Percent as compared to 45.2 Percent previous year.
There is 25.6 Percent increase in spending under Program Expenditure during the period, said sources.