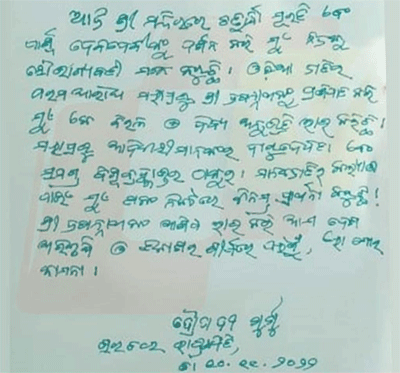 Puri: Showing her devotion with Lord Jagannath, President of India Droupadi Murmu suddenly stopped her carcade on Puri Grand Road and comes out of her high-secured vehicle and walked on the Grand Road, the holy road leading to Srimandir.
Shrimati Murmu, after assuming charge of the top constitutional post of the country, has started her first visit to Odisha with visiting Shree Jagannath Temple.
While moving from Talabania helipad to Srimandir, the President stopped her carcade at Balagandi Chhak and started walking on the Grand Road towards the temple. Her daughter, Union Minister Dharmendra Pradhan, BJP leader Sambir Patra and senior officers also walked with the President.
In between, Shrimati Murmu met school children, who were standing near a barricade on the Grand Avenue. She also posed for a photograph with the kids.
After reaching the Grand Avenue, Shrimati Murmu offered her prayer to Lord Jagannath with raising her both hands. At Singha Dwara, she again raised her both hands and then touched Aruna Stambha.
Like an ordinary devotee, she entered into the Shrine after washing her feet and hands. Touching the Baisipahacha, she went to the main temple and prayed before Lord Jagannath, Lord Balabhadra and Devi Subhadra.
She spent about 30 minutes inside the temple and came out after signing in visitor's book with a message. Later, she went to Puri Raj Bhawan where Mahaprasad was offered to her.
President Shrimati Murmu reached Bhubaneswar this morning on a two-day visit to Odisha. On her arrival, she was received by Governor, Ganeshi Lal, Chief Minister, Naveen Pattnaik, and other top officials at the airport. The President was given a ceremonial guard of honour.
Later, she will return to Bhubaneswar, where she will be accorded civic reception at the Raj Bhawan.

On November 11, President Shrimati Murmu will visit several schools and colleges in Bhubaneswar to reminisce about her student days.