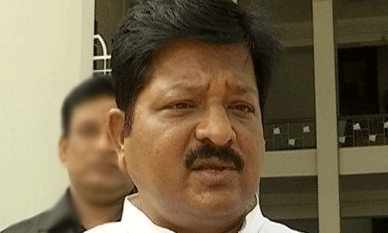 Bhubaneswar: Among the reasons which are attributed for BJD's historical success in the recently concluded local body elections both in rural and urban areas include popularity of Chief Minister Naveen Patnaik, robust organizational strength and well-oiled election machinery of the ruling dispensation and pro-people schemes targeting the rural and urban poor voters.
The man who engineered effective implementation of various popular schemes on the ground is Pratap Jena, who is currently heading both the crucial departments– the Panchayati Raj and the Housing and Urban Development. Mr.Jena was assisted by an able team of senior bureaucrats and officials from the block to panchayat level.
Successful implementation of the schemes not only installed a sense of confidence among the rural and urban poor, but it also helped to beat the anti-incumbency factor.
Mr.Jena, for some people in BJD, is also the "lucky charm" to head both the departments administering the Panchayati Raj institutions and Urban Local Bodies as the recent results are also the first for BJD since its inception on 26 December , 1997.
The party has won 90% of zilla parishad seats, formed zilla parishads in all 30 districts, captured almost 90% of panchayat samitis in the panchayat polls while it also registered victory in around 90% of civic bodies, which itself a record for any political party in Odisha.
Though Mr.Jena considers Naveen Patnaik as the only factor behind BJD's massive success as people repose their faith on his leadership, the Minister said as the State Government goes extra mile to ensure that benefit of welfare schemes reach target population, people now feel part of the Government.
"No matter how hard the opposition parties are working to spread lies and misinformation about the state government, there is a pro-incumbency here in Odisha. Our works for people speaks for itself. For us, people are the masters in a democracy. Unlike the opposition parties, who go to people only during polls, we work round the year for the poor and downtrodden," said Mr.Jena.
Meticulous implementation of two livelihood programmes– Mahatma Gandhi National Rural Employment Guarantee Scheme (MGNREGS) for rural poor and the Mukhyamantri Karma Tatpara Abhiyan (MUKTA) for urban poor helped the state government to provide employment to lakhs of migrant workers, who returned to the state following Covid induced lockdown.
Odisha become a leading state in implementation of the rural job scheme even during the pandemic as over 20.81 crore person-days of works were achieved during 2020-21 under MGNREGS, which is 187% higher in comparison to 11.14 crore in 2019-20. During the 2021-22 financial year, over 18 crore person-days of works have been achieved till February. Over Rs 700 crore was spent under MUKTA scheme.
Around 31 lakh pucca houses have been completed since 2014-15 with an expenditure of Rs 31,000 crore while 12.25 lakh eligible households have been identified for coverage under different rural housing schemes. The system of incentive to the beneficiaries has set an example for other states to emulate.
In its target to achieve universal coverage of tap-water connections, as many as 63 civic bodies have already achieved 100% household connections in the state while Bhubaneswar and Cuttack have achieved 100% household connections in the entire country.
Besides, Puri is the only city in India to have achieved the distinction of joining the prestigious league of international cities like New York, London, Singapore and Tokyo of ensuring 24×7 supply of directly drinkable water rom tap under the Sujal plan.
Under slum upgradation and delisting activities, around 1.70 lakh families have already been granted land rights certificates and eight cities have already achieved slum free status.
The state government has also planned a new programme—Biju Adarsh Colony programme that aims transforming slums to model colonies. As many as 2,974 slums across 114 civic bodies of the state will be transformed under the plan.
Among others, the use of technology to ensure doorstep delivery of urban governance, which earned the state several national and international recognition, is also considered a game changer to win hearts of urban voters.