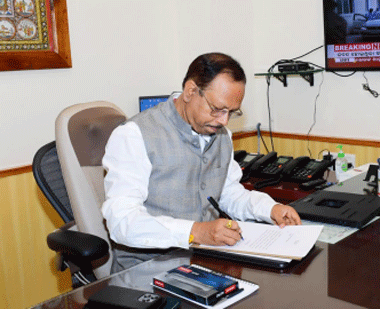 Bhubaneswar: Ace Mandarin, Pradeep Kumar Jena has taken over as new Chief Secretary of Odisha here on 1 March.
1989 Batch IAS, Shri Jena took over as Suresh Chandra Mohapatra has superannuated from the Service.
Earlier in the morning Shri Jena, an ardent devotee of Lord Jagannath went to Shree Jagannath Temple and prayed the Lord Of Universe.
In the afternoon new Chief Secretary was given a warm welcome by senior officers of the State Administration.
Development Agenda for the State is foremost in the minds of Shri Jena, who is a workaholic mandarin.
While he has worked in several developmental departments, Shri Jena, known for his No-Nonsense approach is working out the Road Map for accelerating development process in the State.
During the day he held discussion with several ACS, Principal Secretaries, Secretaries and senior officials on various issues, said sources.
"There will be overdrive for accelerating development process in the State with the presence of Shri Jena", said a senior Mandarin after meeting the new Chief Secretary.
His tenure will be a "Happening One", pointed out the senior Mandarin.