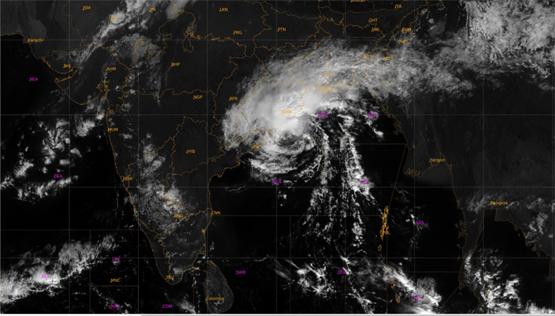 Bhubaneswar: With the social media and local news channels agog over possible summer cyclones following IMD forecasting formation of a cyclonic circulation in the south of Andaman Sea on 4 May, a senior weather scientist Monday said it is too early to forecast the calamity.
A cyclonic circulation is likely to form over South Andaman Sea and the neighborhood around 4 May. Under its influence, a Low-Pressure Area is likely to form over the same region around 6 May. It is likely to become more marked during the subsequent 24 hours, the Bhubaneswar Meteorological Department said in a twitter post on Monday. 
According to the MeT office, the probability of cyclogenesis (formation of depression) during the next 120 hours is moderate and it is difficult to predict whether the system will intensify further or not. "Probable path of the possible cyclone and its landfall are unclear even though different models hint at the cyclone," IMD senior scientist RK Jenamani said.
He, however, said there is a consensus over the formation of low pressure and subsequent intensification by various models, these show variation in its path, intensity and where it will make landfall. "IMD doesn't make any predictions or forecasts until it has concrete data. We still have time and do not want to create unnecessary panic among people now," Jenamani said.
Stating that IMD's predictions are most accurate and "world-class," Jenamani said they mostly depend extensively on the experience of its team besides the multi-model ensemble.
Jenamani said the IMD has so far only made forecasts regarding formation of the low pressure.
He, however, said the probability of summer cyclones is more in the month of April and May and during the post monsoon period like September-October and sometimes in November.
The different models have forecast the landfall of the possible cyclone in Odisha-Andhra border, Odisha-West Bengal border and also in the central region of the Odisha coast between Paradip and Dhamra.
Some agencies have said that the cyclone is impending because of the favourable condition of the Bay of Bengal and the Arabian Sea. The sea temperature there remains at aboput 29 to 30 degree C which is favourable for the low presuure intensifying into a cyclonic storm.
Former Director of the Bhubaneswar Regional Meteorological Cente Sarat Sahu, who presently head the Centre for Environment and Climate (CEC), SOA-Bhubaneswar, said that things will be clear by 6 May.
IMD sources said that between 2011 and 2021, the Bay of Bengal has witnessed six storms, including the extremely severe cyclonic storm 'Fani' which made landfall in Odisha near Puri on May 3, 2019, with wind speed of 175-185 kmph gusting up to 205 kmp.
Then came cyclone Amphan on May 21, 2020 and hit West Bengal, around 20km east of Sagar Island in the Sunderbans. Then wind speed wass about 185 kmph on May 21, 2020. Next year in 2021, cyclone Yaas hit the northern coastline of Odisha with winds and rains as it made landfall at Bahanaga block with a sustained wind speed of 130 to 140 kmph gusting up to 155 kmph on May 26.
The other three tropical storms – Viyaru (2013), Roanu (2016), Mora (2017) – struck Bangladesh in Chittagong.