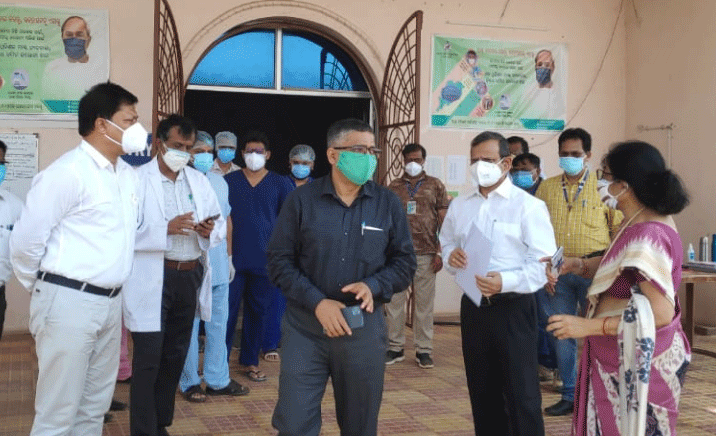 Nabarangpur: Chief Secretary Suresh Chandra Mahapatra and Additional Chief Secretary Health Pradipta Kumar Mohapatra visited Nabarangpur district today to review ground level situation on COVID-19 Management.
ACS Health & FW Mr.Mohapatra and went around the Hospitals and talked to Doctors, Nursing Officers and took stock of situation.
Mr.Mohapatra made a detailed review and advised the District Collector on Vaccination Management and allied activities.
They along with the Collector Ajit Kumar Mishra and other senior officers of the district visited COVID Hospital.
They looked into functioning of ICU, construction of new 200 bed hospital ward and establishment of oxygen plant in District Head Quarters Hospital of Nabarangpur.
Review showed that test and positivity ratio in the district has been reduced from 20Percent to 13 Percent during last days because of shutdown and other enforcement measures taken by Government.
This trend is in declining state, and, is expected to reduce further in coming days
Replying to Media query after the field visit and review, Chief Secretary Mr. Mahapatra said that new RTPCR machine in Nabarangpur would be operationalized shortly which would provide for testing facility of around
Now 500 samples are tested Per Day. All efforts would be made to complete construction of the oxygen plant and new ward within 3 to 4 months, said CS.