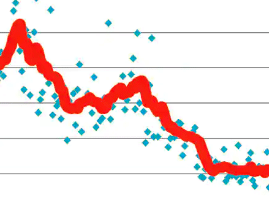 Bhubaneswar: With the continuing decline in positive cases, the State Government has expected that the daily Test Positivity Rate (TPR) will come down to 4.5 per cent by 21June. The TPR of Odisha as on today is 8.75 per cent.    
Odisha has already attained the peak of 12,852 cases on 23 May 2021 during the prevailing second wave of Covid-19. After that the numbers of fresh daily cases are falling with slight ups and downs.
But now the case numbers show the most consistent and steady decline till yesterday. Today, the cases have slightly increased from 5,896 to 6,019.
Today's number of cases is equivalent to the number Odisha had on 2 Apr , 2021 (6,164 cases). After a gap of 47-days the State has reported a similar number of fresh cases.
"With the current trend in the last few days we expect a projected decline rate of 4.5 per cent and we expect that the daily positive cases will fall to 2,955 by 21 June, which is 6019 today," said a senior official of the Health and Family Welfare Department.
The total active cases in the state will reduce to 36,815 by 21 June. The total active cases stand at 71,312 today.
At least 10 out of 30 districts account for 63.3 per cent of cases while the number of active cases has drastically fallen in Western-Southern districts.
On the other hand, Northern (Mayurbhanj & Balasore) – Costal (Khordha, Cuttack, Puri, Jagatsinghpur and Jajpur) districts are showing a rising number of cases.
The state has reported a recovery rate of 91.04 per cent and Case Fatality Rate (CFR) of 0.37 percent so far. The national CFR is 1.20 per cent.
The Test Positivity Rate (TPR) of the current week ending on 6 June was 11.36 per cent. However, the day to day positivity as of today is 8.75 per cent which has fallen below 10 per cent since Monday (9.91%).
The TPR came down to below 10 per cent after 54 days. The last TPR below 10 per cent was reported on 16 April, 2021.
Rayagada is the only district where the test positivity has remained above 15 per cent and showing a rising trend. Therefore, the District Administration of Rayagada has been instructed to take all appropriate steps, the official said.
Though six other districts—Jajpur, Puri, Khordha, Dhenkanal, Cuttack and Jagatsinghpur also have a TPR above 15 per cent, the trend is decreasing in these districts. Still, these districts are also of concern, as the overall risk level is high due to high positivity rate.
Similarly, a decreasing trend is there in nine districts, which are having a TPR of 10-15 per cent. The positivity rate in nine districts (mostly Western and Southern Odisha districts), has remained in between 5 and 10 per cent and are already in a declining path. These districts have been marked as moderate risk districts.
9 districts (Khordha, Cuttack, Angul, Jajpur, Sundergarh, Mayurbhanj, Puri, Dhenkanal and Balasore) are reporting above 300 cases per day on an average in the last 15 days and that is a matter of concern. These districts have to still be on the guard, the official further said.
Out of the total active cases, over 86 per cent patients are under home isolation while the general bed occupancy has fallen since 10 May and 68 per cent of the general beds in various Covid care facilities are now vacant in the state. The pressure on the ICU/HDU has also come down from 24 May onwards and over 36 per cent of these beds are vacant.
Moreover, the daily oxygen consumption rate which had reached almost 69MT per day has now come down to 61MT now. The Government has ensured availability of adequate numbers of oxygen with new procurement and also available through Corporate Social Responsibility (CSR).
Oxygen concentrators are being provided to Covid cured patients in 5 Municipal Corporations—Bhubaneswar, Cuttack, Sambalpur, Berhampur and Rourkela through mobile app.
Sufficient amount of drugs and consumables like PPE kits, masks, etc are there for the treatment of Covid-19 patients in the State, the official informed.