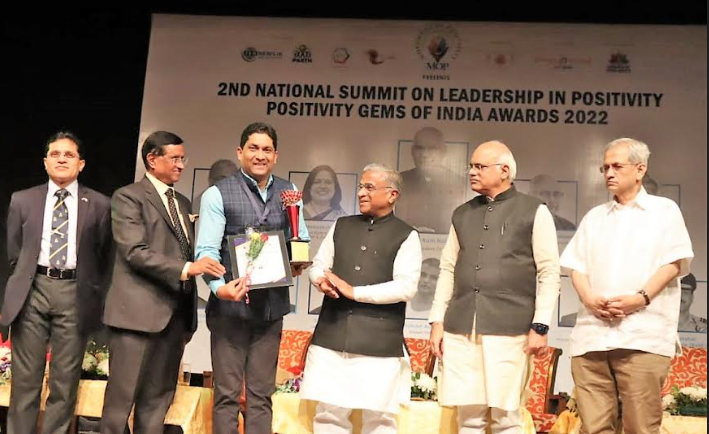 Bhubaneswar: Siksha 'O' Anusandhan (SOA) Deemed to be University has received 'Sakaratmak Ratna Award' for creating positivity in the society and making significant contribution to the process of nation building.
Similarly, SUM Ultimate Medicare (SUMUM), which has played a leading role in the field of health care in Odisha, has been awarded the 'Sakaratmak Netrutwa Award'.
The Society for Initiatives organized its second national conference at the Civil Services Officers' Institute in New Delhi on Friday to honour organizations and individuals deemed worthy of promoting the positivity movement in the country. It was inaugurated by former President Ram Nath Kovind.
Harivansh Narayan Singh, Deputy Chairperson of Rajya Sabha, attended the ceremony as the guest of honour and honoured SOA and SUMUM with the awards.
Pratim Nayak, OSD to SOA Founder President Prof (Dr) Manojranjan Nayak based in Delhi, received both the awards on behalf of SOA and SUMUM.
Mr. Kovind, in his inaugural speech, emphasized on positivity. In this context, he gave the example of a glass half full of water and said that if we see it as half empty, it denotes the pessimism of the mind. If we see it as half full then it indicates positivity of mind, he said. He pointed out that even a small ray of positivity could be incredibly powerful during times of deep despair. He appealed to everyone to adopt this attitude.
The former President expressed his gratitude to the institutions which had been considered worthy of the award noting that they have played a leading role in creating positivity in the society and building the nation. On this occasion, Rajya Sabha deputy chairman Mr. Singh commended the role of all the award winners including SOA and SUMUM in creating positivity in the society.
National Human Rights Commission Chairman Arun Kumar Mishra and Indian Council for Cultural Relations Chairman Vinay Sahasrabuddhe, former CEO of NITI Aayog Amitabh Kant, Union Minister of State for Skill Development and Electronics and Technology Rajeev Chandrashekhar and Union Minister of State for External Affairs Minakshi Lekhi were the guests of honour at this event.
Among others, Dnyaneshwar Mulay, Member of National Human Rights Commission, Rishi Kumar, President of Positive Initiatives Society, Prashant Dwivedi, President of Bharat Mancha and Jagannath Patil, Advisor of National Assessment and Accreditation Council (NAC) attended as the guests of honour.
NAAC Adviser Mr. Patil emphasized on incorporating positivity in higher education curriculum. He informed that he would propose to the union government to implement it in universities. He said that this will have a deep impact on the minds of the students of higher education and will motivate them to shape their future. At the end of the ceremony cultural programs were held.