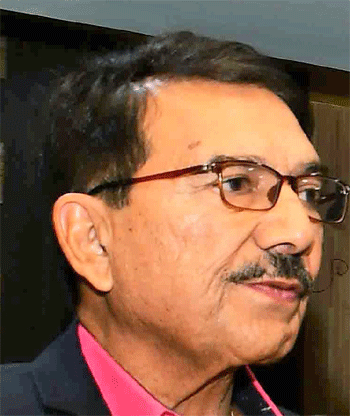 Bhubaneswar: While battling odds in life, a positive mindset is the greatest asset of a person which can turn things around, former Indian test opening batsman Arun Lal told a gathering of cancer survivors on Saturday.
"The body adjusts to what the mind believes… you must believe that you can win," Lal said while speaking at a World Cancer Day program organised at the Institute of Medical Sciences and SUM Hospital here.
Himself a cancer survivor having successfully battled the condition for eight months, the former cricketer, coach and commentator said his rare jaw cancer which was diagnosed very late forced him to go through a prolonged treatment including a major surgery. "When my cancer was diagnosed, it was a 'touch and go' situation. But till my surgery, I never thought even for once that I will be defeated or I was facing death," he said.
Thanking the doctors and surgeons who treated him, Shri Lal said knowledgeable doctors and surgeons and evolving medical science do help in treatment but "what is more important is your will to win."
Describing medical science as a 'work in progress', the former test batsman said science would have progressed far ahead in 100 years time "but human spirit is our strength which will take us beyond technology."
Recalling his own experience as a young cricketer, Shri Lal said while playing for Delhi University he fractured his ankle during an inter-varsity Rohinton Baria Trophy match. His ankle was put on plaster but he removed it after nine days though the pain persisted.
"I insisted that I must play the final against Osmania University. I was hobbling and batted with much difficulty. I depended mostly on loose balls to score runs."
"We needed 80 runs to win and I had the last batsman Sunil Valson (a member of the 1983 World Cup winning Indian squad) for company. I scored all the required runs alone to remain undefeated for 164 which I reckon to be the finest innings of my career," he said.
 "Doctors are very important to us and to remain healthy, all must take the help of medical science and technology. But one should not be limited by these. We ourselves should push our own frontiers because doctors and medical personnel would not know what you are made of," Shri Lal said.
He also recalled the story of Charley Paddock of USA whose efforts to become a sprinter was sneered at because of his small stature. But he did not despair and won the 100 metres gold in the 1920 Antwerp Olympic Games.He met an emaciated and thin African boy whom he encouraged to compete with the words "if you think you can, you can." The boy, Jesse Owens, went on to win four gold medals in the 1936 Berlin Olympic Games.
Shri Lal said after recovering from his ailment, he was having an excellent second innings in life which was better than the first. "My jest for life is not less than that of anybody," he said.
 "Mind can conquer your pain, physiology. The only thing stopping you is you yourself," Shri Lal, who was given a standing ovation after his speech, said.
Shri Lal, who played 16 test matches for India between 1982 and 1989, also congratulated IMS and SUM Hospital for the free treatment it was rendering to the people.
The meeting was addressed by Prof. (Dr.) Sanghamitra Mishra, Dean of IMS and SUM Hospital, Prof. (Dr.) Pusparaj Samantasinhar, Medical Superintendent, Prof. (Dr.) Neeta Mohanty, Dean of Institute of Dental Sciences and Prof. (Dr) Saroj Panda, Head of Pediatric Oncology department. Prof. (Dr.) Sunil Agrawal, Head of Surgical Oncology, proposed the vote of thanks.