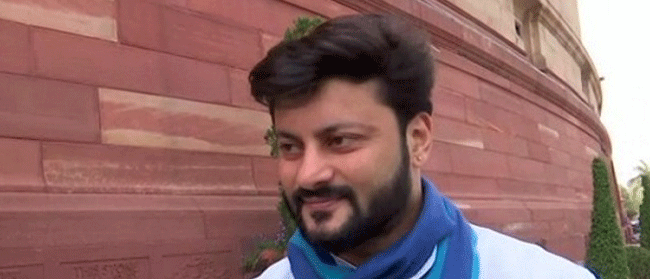 Cuttack: Twin City Police has said that it was verifying allegations against Governing BJD MP Anubhav Mohanty lodged by his estranged wife and cine actress Varsha Priyadarshani. 
Deputy Commissioner of Police (DCP) Cuttack, Pinak Mishra said that the fresh FIR against the MP is being analyzed and legal action will be taken in accordance with the law if the charges are found cognizable.   
"We have acknowledged the complaint filed by Varsha Priyadarshini at Purighat police station. We will analyze the content of the FIR and take action accordingly," Mr.Mishra told Media here.
The DCP also said that a case was earlier registered at Purighat Police Station against the MP by his actress wife. "We are also taking into consideration the subsequent complaints being made by her. Action will be taken after analyzing whether contents are cognizable or non-cognizable offence," he said. 
In her FIR at the Purighat police station on Sunday, Varsha Priyadarshini accused her husband of posting videos on social media and creating fabricated stories about her. She also alleged that the Kendrapara MP posted and made a video viral of his statement with the intention to hurt her feelings as a woman.
She alleged that by making insulting comments on her in the videos, Anubhav was also tarnishing her public image. Varsha said her husband has been conspiring for quite some time to tarnish her image in public.
"He is trying to violate the 'Right to Live with Dignity' by telling baseless stories on social media," the estranged wife, who is facing a divorce case, said.
The Parliamentarian has released two videos. In the first video titled 'untold story', he promised to spill the beans about the discord with his estranged wife Varsha Priyadarshini, but only if fans gave him the permission to do so, while in the second, he elaborated on the reason which forced him to file a case for divorce from his wife.
Anubhav filed for divorce in the Patiala House Court in New Delhi in July 2020. This was revealed after Varsha filed a case of domestic violence at the Cuttack Sub-divisional Judicial Magistrate (SJDM) court on 7 August, 2020, accusing the actor of torturing her physically and mentally.  
On MP's video, BJD Kendrapara District Observer Debashis Samantray said that the video speaks more about his personal problem and not on the welfare of the people of his constituency.

The BJD MP was not seen in many party programs and even during electioneering of the recently concluded Rural and Urban polls.