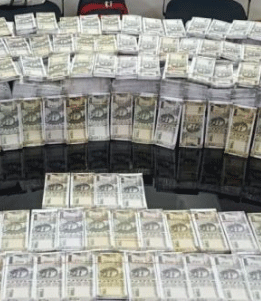 Koraput: District Superintendent of Police of Koraput, Varun Guntupalli is happy with seizure of counterfeit currency notes with a face value of Rs 7.90 crore at Sunki outpost area under Pottangi Police limits in the district during a routine checking.
The personnel on the motor vehicle checking team detained a private car having Chhattisgarh registration number in which there were three persons including the driver, they said.
During verification, it was found that there were 2 trolley bags on the backside seat of the car and 2 other trolley bags inside the dickey of that vehicle which were locked. On further verification of the four trolley bags, the police team found there are numbers of bundles of Rs 500 (fake currency notes) inside all the trolley bags, revealed Niranjan Behera, SDPO, Sunabeda.
"On being asked, the detainees disclosed that they are coming from Raipur, Chhattisgarh and proceeding to Visakhapatnam. They also admitted their guilt to have possessed fake currency notes inside the bags," the official said adding that on further interrogation, they disclosed that they were transporting these fake currency notes by the direction of their associates.
The investigation so far revealed that there were 1580 (each bundle comprising 100 notes) of fake currency notes worth a face value of Rs 7,90,00,000. The fake notes were seized and three persons hailing from Janjgir Champa district of Chhattishgarh, were arrested.
The police also seized the car, five mobile phone sets, cash Rs 35,000 and few credit cards, debit cards, ID proofs and other documents, police said.
"We have started an investigation into the matter and help of Andhra Pradesh and Chhattisgarh police will be sought. The accused persons now claimed that they have burnt down the printing machine using which they produced the fake currency notes," said SP Mr.Guntupalli.