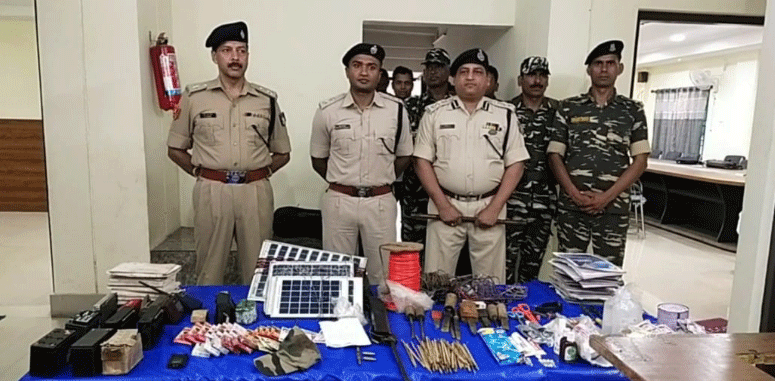 Nuapada: Top Cop Amitabh Thakur is happy as Nuapada Police has been successful in recovering arms, ammunitions and other articles in a big way from the Maoists.
IGP Operations, Mr.Thakur said that Nuapada Police received intelligence inputs from reliable sources about a huge camping of Naxalites of CPI (Maoists) in large numbers in dense forest area near by Odisha – Chhattisgarh Border of Patdhara Reserve Forest under the limits of Boden Police Station.
As per the information the Naxalites had gathered to plan various anti security forces strategies and to carry out other subversive activities.
Accordingly on 6 July 2022 an Anti-Naxal Operation was launched by combined security forces of Special Operation Group (SOG), District Voluntary Force (DVF) & Central Reserve Police Force (CRPF).

At around 10.10 AM on 8 July, while the Commandos of SOG were conducting search operation in the forest area of Patdhara RF, 60-
80 hidden Armed Naxalites.
They were led by Murli @ Sangram Reddy, Debji, Jayaram @ Chhalpati, Kartik @ Dashru, Jayaram @ Guddu, Anju @ Padma, Sangita, Janila, Parvati, Soni and others.
Maoists opened indiscriminate fire towards the Security Forces with the intention of killing them.

The Team retaliated gallantly and counter fired in self-defense. Due to which Naxals fled the area.

After the Exchange of Fire during search combined security force recovered huge arms and ammunitions.