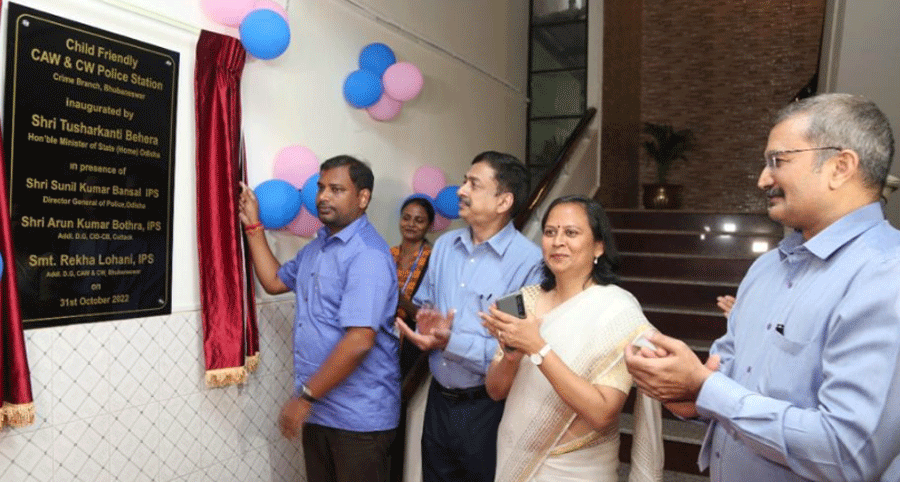 Bhubaneswar: Tusharkanti Behera, Minister of State, Home Monday inaugurated a Sampark Help Desk and 16 Child Friendly Police Stations in hybrid mode from the office of Crime Against Women and Children Wing (CAWACW), Crime Branch, Odisha.
Making a presentation on Sampark Help Desk, Rekha Lohani, ADG CAW&CW informed that the Help Desk has been initiated with technical collaboration from UNICEF.
Shrimati Lohani said the objective of such an initiative is to address the issues of gender violence by providing psychosocial support to the victim of sexual violence who face tremendous trauma post the incident, connecting the victim to various support agencies in the district like DCPU, DSWO, CWC, Childline, One Stop Centers, district mental health professionals etc.
Shrimati Lohani also said that empowering the victims by informing them of their rights and entitlements in their journey to secure justice, referrals and follow-up action.
While enumerating the success stories of Sampark Help Desk during the trial run period, ADGP informed that State Government has already approved for its short term augmentation and scaling up of its capacity to cater to the requirements of this vulnerable sections of the society. The audio visuals developed to create awareness in communities on child protection and mental health issues were also displayed on the occasion.
Besides, the ADG CAW&CW further informed that child friendly police stations in the state have been developed with a view to provide child friendly atmosphere. The 16 Police Stations inaugurated today have their interiors pointed to attract the children and ore equipped with soft toys, library having animated story books, swings for children, washrooms, separate breast feeding corner for lactating mothers, recreation means like TV etc.
Terming the initiative as truly transformative Minister Tusharkanti Behera while inaugurating the Sampark Help Desk and 16 child-friendly police stations in virtual mode stated that the step was in 'tune with the 5T charter of the government.
He informed that under the able leadership of Chief Minister, the state of Odisha has been able to create reputation of violence free State at the National level.
Lauding the initiative DGP Odisha Sunil K Bansal stated that the step would help empower the victims of gender violence who would now have access to professional psychosocial support with their confidentiality intact.
Besides, child friendly spaces in PSs would help provide the children o corner where they could ventilate their grievance/statements without any fear or apprehension in a friendly environment.
Arun Bothra, ADG CID-CB stated that timely psychosocial help to the victims of gender violence con go o long way in saving many precious lives, many of whom often resort to extreme steps fearing social stigma.
He expressed confidence that Sampark Help desk along with Child friendly PS will help in bridging the gap between police and the public. Also present on the occasion were Shubha Sarma, Secretary WCD, representatives from UNICEF and other senior officers.