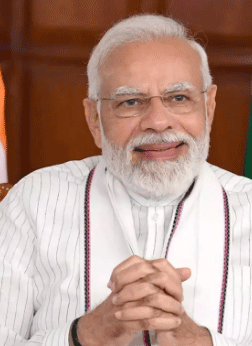 New Delhi: While rejecting negetivity, Prime Minister Narendra Modi said that there is positivity and hope towards India at a global level. The Prime Minister credited this positivity to stability, India's global standing, the growing capability of India and new emerging possibilities in India. 

Throwing light on the atmosphere of trust in the country, the Prime Minister said that India has a government that is stable and decisive. He underlined the belief that reforms are not carried out of compulsion but by conviction.

"The world is seeing prosperity in India's prosperity", he said.Prime Minister reiterated the commitment towards those who are deprived and neglected and asserted that the biggest benefit of the government's scheme has gone to dalits, adivasis, women and vulnerable sections.
Prime Minister, Shri Modi replied to the motion of thanks on the President's address to Parliament in the Lok Sabha today. 
The Prime Minister said that the President of India gave direction to the nation in her visionary address to both Houses. He remarked that her address inspired the 'Nari Shakti' (women power) of India and gave a boost to the self-confidence of India's tribal communities while instilling a feeling of pride among them. "She gave a detailed blueprint of 'Sankalp se Siddhi' of the nation", the Prime Minister said. 
Throwing light on the Nari Shakti of India, the Prime Minister informed that no efforts have been spared to strengthen India's Nari Shakti. He remarked that when the mothers of India are strengthened, then the people are strengthened, and when the people are strengthened it strengthens the society which leads to a strengthening of the nation.
Prime Minister underlined that the government has addressed the aspirations of the middle class and honoured them for their honesty. Highlighting that the common citizens of India are full of positivity, the Prime Minister emphasised that even though the Indian society has the capability to deal with negativity, it never accepts this negativity.