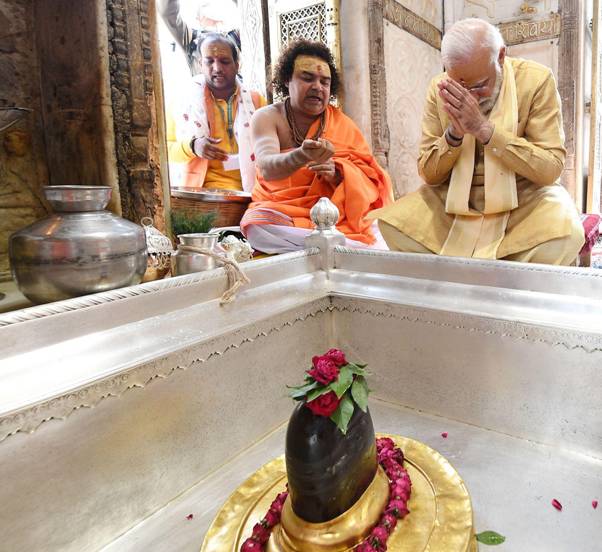 Prime Minister Narendra Modi inaugurated Shri Kashi Vishwanath Dham in Varanasi today. He prayed at the Kaal Bhairav Temple and Kashi Vishvanath Dham in Kashi. He also took a holy dip in river Ganga.
Starting his address with pranam at the feet of 'Nagar Kotwal' (Lord Kaal Bhairav), the Prime Minister said nothing special happens without his blessings . The Prime Minister sought the lord's blessings for the countrymen.
The Prime Minister cited Puranas which say that as soon as one enters Kashi, one becomes free from all bondage. "Blessings of Lord Vishweshwara, a supernatural energy awakens our inner soul as soon as we come here".
He added that this whole new complex of Vishwanath Dham is not just a grand building. This is a symbol of the Sanatan culture of our India. It is a symbol of our spiritual soul. This is a symbol of India's antiquity, traditions, India's energy and dynamism. The Prime Minister said 'when one comes here, they will see not only faith but  will also feel the glory of the past here. How antiquity and novelty come alive together. How the inspirations of the ancient are giving direction to the future, We are witnessing this very vividly in Vishwanath Dham complex', he added.
The Prime Minister noted that earlier the temple area was only 3000 square feet which  has now enlarged to about 5 lakh square feet. Now 50000 – 75000 devotees can visit the temple and temple premises. That is, first the darshan and bath in Maa Ganga, and from there directly to Vishwanath Dham, he informed.
Dwelling on the glory of Kashi, the Prime Minister said that Kashi is imperishable and is under the patronage of the Lord Shiva. He expressed his gratitude to every worker in the construction of this grand complex. They did not let even Corona stop the work here. He met and felicitated the workers. Shri Modi had his lunch with the workers who worked for the construction of the Dham. The Prime Minister also lauded the artisans, people associated with the construction, administration and those families who had their homes here. Along with all this, he also congratulated the UP government, Chief Minister Shri Yogi Adityanath, who toiled relentlessly to complete the Kashi Vishwanath Dham project.