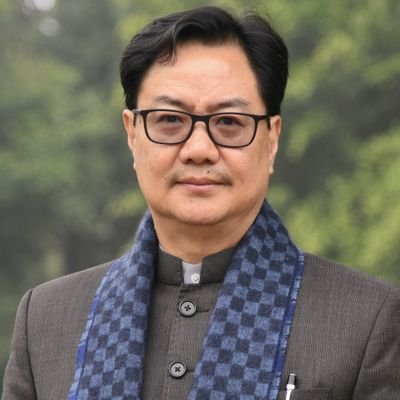 Bhubaneswar: Union Minister for Law and Justice, KirenRijiju has requested Orissa High Court Chief Justice S. Muralidhar to take steps for time bound disposal of cases in the Fast Track Courts established in the State.  
The Fast Track Courts (FTCs) setup by the State Government for trial of cases related to heinous crimes, crimes against women, children, senior citizen etc. while the Fast Track Special Courts (FTSCs) setup under Centrally Sponsored Scheme (CSS) for expeditious trial of rape and POCSO Act cases.
Mr.Rijiju said the 14th FC with the increased share of devolution of funds recommended for setting up of 1800 FTCs by the State Governments. As on July 31, 2022, total 896 FTCs are operational in 24 States/UTs in which 13,18,427 cases are pending.
On analysis, it reveals that while 88,000 monthly new cases are registered, case disposal is approximately 35,000, leading to ever increasing pendency of cases, he pointed out.
The Department of Justice had started a Centrally Sponsored Scheme (CSS) in October, 2019 for the expeditious disposal of cases related to rape and POCSO Act for setting up of 1023 FTSCs including 389 exclusive POCSO courts based on the then pendency of cases.
Accordingly, as on July 31, 2022, 731 FTSCs with 412 exclusive POCSO courts are operational in 28 States/UTs which have disposed of a cumulative 1,08,702 cases. It shows that monthly 10,000 new cases are registered while disposal is 6,000 and hence pendency is continuously increasing, the Minister said.
As on July, 2022, total pendency of rape and POCSO Act cases is more than 3,28,000 which is an alarming situation. In Odisha, 19,214 such cases are pending in the courts. In the month of July alone, 504 new cases were registered and 487 cases were disposed off.
The Government of India has been allocating sufficient funds in every year's budget for the FTSC scheme and the Department of Justice has been repeatedly following up with the State Governments and High Courts for availing the allocated funds and its timely utilization.
However, in many States, the pre-requisite compliances for the release of CSS funds under the Public Financial Management System (PFMS) are not fully complete or are partially complete leading to under utilization of the allocated budget, he said.
"As the safety and security of our women, children as well as other marginalized categories are of paramount concern, the need for robust functioning of the earmarked FTCs and FTSCs becomes highly imperative," said the Union Law Minister.
In view of the huge pendency of cases, he urged the Chief Justice to open the balance number of FTCs in the State with due consultation of the State Government.
As per the centrally sponsored scheme of FTSCs, the remaining number of courts may be set up and operationalized on priority basis, stated Mr.Rijiju.
He also suggested to set up a strict monitoring mechanism for the timebound disposal of cases by the FTCs/FTSCs.