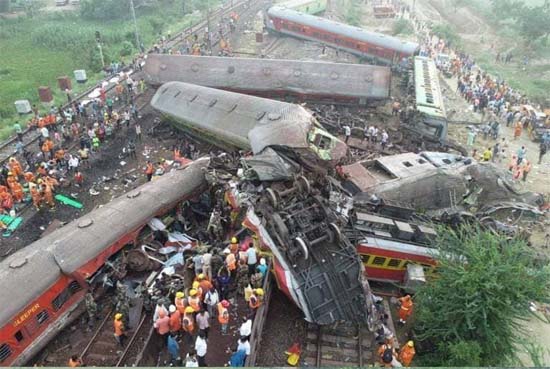 Bhubaneswar,: Three days after the tragic triple train accident in Odisha's Bahanaga, Railway officials on Monday informed that the loco pilot and assistant loco pilot of the accident-hit Coromandel Express are alive, stable and under treatment in a hospital in Bhubaneswar.
Coromandel Express loco pilot Gunandhi Mohanty and assistant loco pilot Hajari Behera have suffered injuries in the mishap and they are under treatment in a private hospital in Bhubaneswar. Their health conditions are stated to be stable and out of danger, said Aditya Kumar Choudhury, chief public relation officer (CPRO), South Eastern Railway.
He also informed that the health condition of the guard of the goods train is also stable.
Both the loco pilot and assistant loco pilot have given their preliminary statements about the incident, Shri Choudhury said.
Railway Board member Jaya Varma Sinha had earlier informed that the pilot moved forwards to the loop line as there was green signal.
"We had spoken with the driver and he confirmed that the signal was green. Our staff is dedicated and works with dedication. He neither had passed when the signal was red, nor was overspeeding. The driver sustained severe injuries and he said that the signal was green," said Shri Sinha in New Delhi.
According to Shri Sinha, the data record (sealed record which is part of the investigation) also suggests that the signal was green and the driver had not passed when the signal was red.
Secondly, in every loco there is a speedometer and the chart which records the speed. The speedometer graph has been taken out and he (driver) was in his permissible speed limit. This is a high-speed section (130 kmph permitted) and the train driver was at 128 kmph, Shri Sinha informed.
Meanwhile, the Chief Commissioner of Railway Safety Shailesh Kumar Pathak visited the accident spot on Monday and informed that Indian Railways Safety South-Eastern Circle has initiated their independent inquiry into the train mishap.
"Commissioner of Railway Safety South-Eastern Circle has initiated their independent inquiry and as soon as the report is completed, we will share the details. It is impossible and not correct to say anything with completion of the inquiry," Shri Pathak told media persons.
In a related development, the GRP has registered a case under Sections 337, 338, 304-A and 34 of IPC, 1980 and Sections 153, 154 and 175 of Railway Act 1989 following a complaint filed by Balasore GRP sub-inspector (SI) Papu Kumar Naik. In its FIR, the GRP mentioned negligence in part of the railways.